25 Different Types of Soles for Boots [With Pictures]
When it comes to the comfort of a boot, the sole is the primary concern of people. But there are so many different types of similar soles available today; how do you know the difference? Well, that's why we created this guide to help you understand the ins and outs.
What Is The Sole Of The Shoe/Boot?
The sole is the underside of a shoe or boot that touches the ground. The main functions of the sole are to absorb shock, grip slippery surfaces, and prevent your feet from harmful objects.
Boot outsoles can be made from rubber, leather, plastic, cardboard, fur, wood, cork, or plant extracts (such as jute). Most soles are made using rubber-coated leather because this combination provides sufficient flexibility and durability to withstand daily wear. The thickness of the sole determines the amount of cushioning, support, and traction it provides.
Best At a Glance
| | |
| --- | --- |
| Best Look: | Leather Soles, Combination Soles, Crepe Soles, Dainite Soles, and White Soles |
| Best Comfort: | Combination Soles, Rubber Soles, PU Soles, BPU Soles, Zigzag Soles, and Nitrile Cork Soles |
| Best Traction: | Spiked Soles, Cleats Soles, Lug Soles, Dainite Soles, Ridgeway Soles, Vibram Soles, and Rubber Soles |
| Best Durability: | Lug Soles, Vibram Soles, Rubber Soles, Ridgeway Soles, and PU Soles |
| Best Breathable: | Leather Soles, Vibram Soles, Dainite Soles, and Combination Soles |
| Best Waterproof: | Vibram Soles, Rubber Soles, PU Soles, BPU Soles, ABS Soles, Wedge Soles, and Danite Soles |
| Best Shock Absorption: | Zigzag Soles, BPU Soles, PU Soles, Vibram Soles, Lug Soles, and Wedge Soles |
Types of Soles
Here we have discussed 25 shoe sole material types, including everything from the traditional Rubber soles, Vibram, and even specialty soles such as BPU or Crepe soles. There's a little something for everyone in this post!
So let's get right into it with a list of all the different types of shoe soles:
Rubber Soles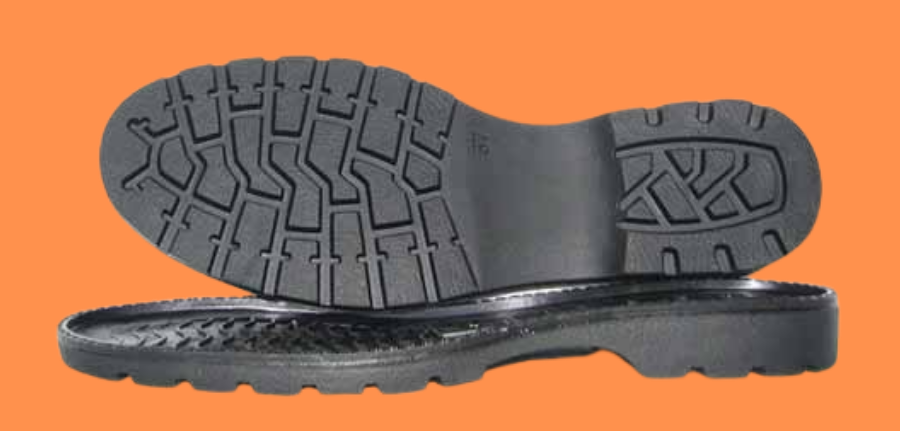 This is probably one of the most common sole types because rubber is durable and grippy. These soles are suitable for people who wear their sneakers or casual shoes every day and don't need to worry about tiring their feet. They absorb shock well so that you can get a lot of mileage from them. Rubber is also a very lightweight material, providing excellent comfort when walking. And rubber naturally has high friction, which is why it provides excellent traction on uneven surfaces or surfaces that are still wet from rain or snow.
Leather Soles

Leather soles are indeed made of leather. They are sturdy and waterproof, and some types of leather soles are more durable than rubber ones. These are the double leather sole and triple leather sole. What is best about leather soles is that they also look classy along with all of their outstanding features. It is not something you can say about many other soles.
Related: Rubber Sole VS Leather Sole
Combination Soles
These soles are a combination of leather and rubber soles. These soles have increased durability and traction combined with both soles. This sole is one of the best boot soles and one of the most common soles in shoes.
Spiked Soles

A spiked sole is a standard rubber sole but has spikes. The purpose of the spikes is to provide grip in icy conditions. It is a common type of sole used by those living or working near glaciers. On some boots, the spikes are removable, and the sole can be converted to a typical rubber sole.
Read Also: Composite Toe vs Steel Toe
Vibram Soles

These soles are made by the Italian company Vibram. They have a rubber sole that is much more durable. It makes them perfect for outdoor use and hiking. These soles are also very popular with many mountain climbers because they allow you to grip different surfaces better.
Wedge Soles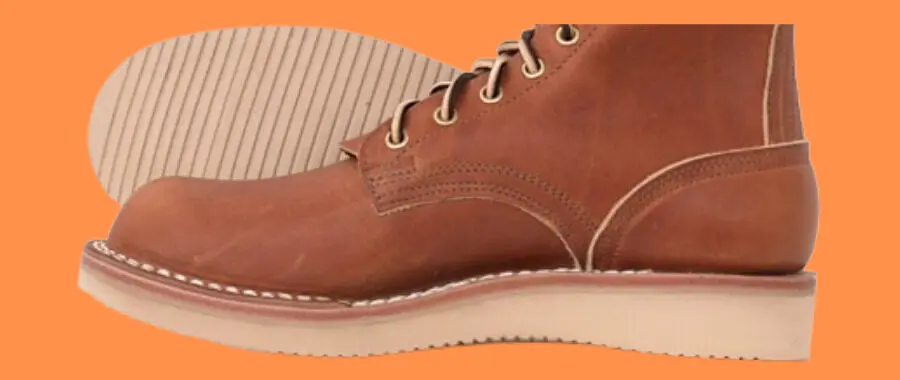 These soles are just what they sound like; they are flat shoe soles heightened at heels and gradually decreasing in height as you move towards the toes, just like a wedge. The wedge-shaped sole is usually made up of polyurethane rubber. The wedge sole is perfect for people who work on flat surfaces or for people who don't wear high heels often but still want to look taller.
White Soles
These are made of white rubber, and they can come in a soft tread. These soles are lightweight and have low density. They are most commonly seen on sneaker shoes and Converse all-star sneakers.
Read Also: Alloy Toe vs Composite Toe Cap
Dainite Soles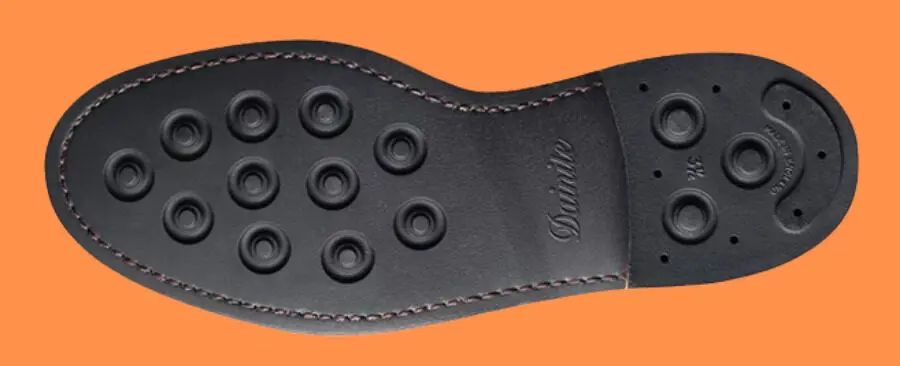 Danite itself is a shoe manufacturing brand; Dainite soles is the name used as a reference to the soles this company makes. What is unique about these soles is that they have tiny studs on their rubber soles. These soles are waterproof and provide excellent traction in light snow.
Wooden Soles
Wooden soles are made with natural wood, including coconut shells and bamboo. They are usually used on high fashion or designer shoes. If built correctly, wood-soled shoes can be beneficial to your feet. They're ideal for those who have to stand all day, including nurses, factory workers, and people in the service industry. Wood-soled shoes can help posture and protect wearers from risks such as broken glass or nails on the ground. However, if the shoes are poorly constructed, the wearer may suffer from blisters and many other problems.
Zigzag Soles

As the name suggests, the zigzag soles are the soles that, if looked at from the side, make a zigzag pattern. And these zigzag soles are the latest trend in footwear fashion. The zigzag soles provide excellent arch support and have excellent shock absorption. This pattern allows the shoes to be more flexible and easy to walk on than regular soled shoes.
Related: Steel Toe vs Alloy Toe Cap
Green Soles
This is the term used for eco-friendly soles. These soles can be made up of a variety of materials. These materials can range from recycled rubber products to rubber replacements from the plants. One of the examples of a replacement is Sweet Foam produced by the shoe manufacturer Allbirds. Sweet Foam is the shoe sole made out of sugarcane.
Nitrile Cork Soles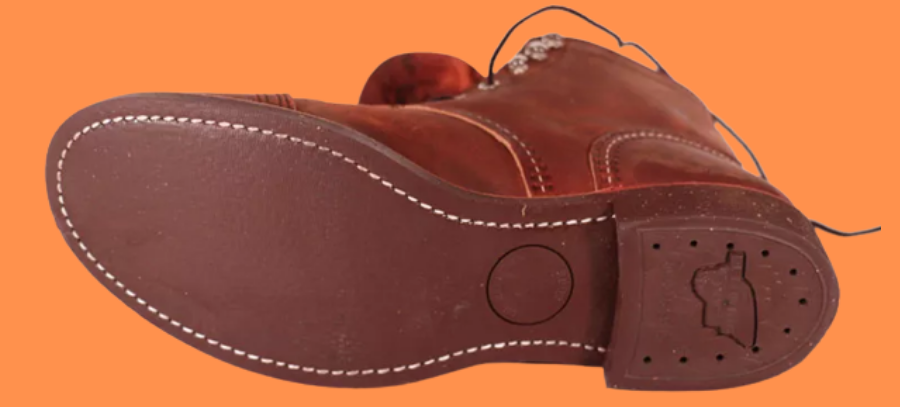 This sole is also a combination of rubber and cork. This combination makes the sole low profile, lightweight and durable. The addition of cork also makes the sole great at shock absorbance.
Polyurethane Soles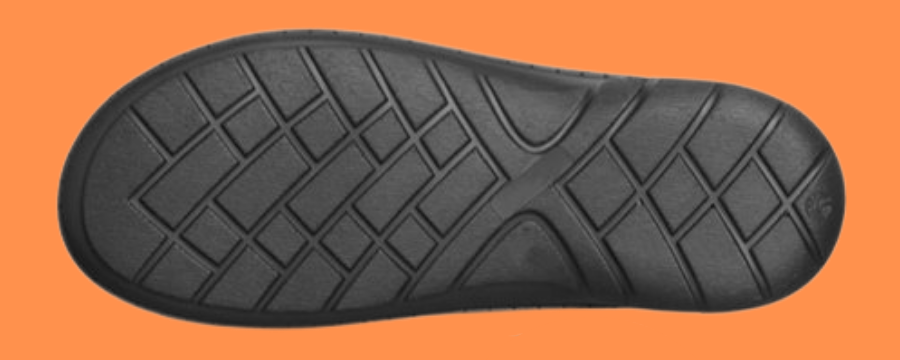 Polyurethane, also known as PU, is a type of material that is used to make the bottom soles of boots. It provides increased traction and durability. The sole can be made up for different levels of protection depending on the purpose it will serve in the shoe. Polyurethane material adheres better than rubber does to most surfaces, for example, concrete pavement. The two types are high-density Polyurethane (HDP) and low-density Polyurethane (LDP). The HDP type is the strongest and provides the most durability for long-term use. HDP is firmer and hence greater at shock absorbance. However, LDP is lighter than HDP, and also LDP is softer than HDP.
BPU Soles

BPU is the newer, better version of Polyurethane. This redesigned version is very much eco-friendly, and it also has very low density. BPU is highly durable and weather resistant because of its increased toughness. It is ideal for you if you spend most of your time outside.
Cleats Soles

Cleats is the name used for shoes worn by footballers or track runners. But it is also used to refer to the sole of those shoes. Cleats are the soles with studs ranging from 2 to 4 inches. The shape and the material of the cleats mainly depend on the usage of the shoes. The purpose of these studs is to provide extra traction and control for athletes when running on grassy fields.
Raw Cord Soles

Raw Cord soles were invented during World War II. When there was a shortage of rubber and high demand for combat boots, the shoe manufacturer started to melt tires to make shoe soles. The tires had nylon chords in them, so a new type of shoe sole was created. Nowadays, raw cord soles are made of nylon or polyamide rubber cords. These materials provide comfort to the shoe by providing flexibility and cushioning.
Acrylonitrile Butadiene Styrene Soles
Acrylonitrile Butadiene Styrene soles or ABS is a cost-effective, easy to manufacture polymer that has been in use for over 50 years. It has excellent molding and extruding properties and is very tough and durable. It's also resistant to many solvents and acids, making it an excellent material for shoes.
Polyvinyl Chloride Soles
Polyvinyl Chloride, also known as PVC shoe soles, is a common and durable shoe sole material. The polyvinyl chloride (PVC) sheet can be pressure molded into the perfect shape for the desired shoe sole. It is lightweight, flexible, and can resist oils, chemicals, acids, and fuels up to some extent.
Lug Soles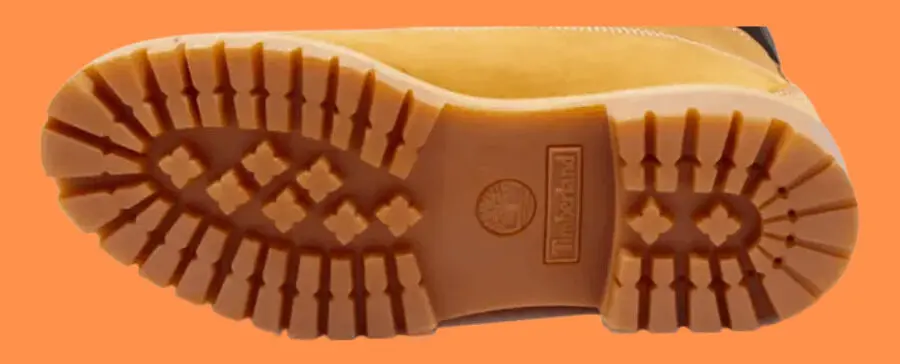 Lug soles are one most common soles for hiking boots or work boots. They are thick and hence great at shock absorbance, and the lugs allow excellent traction and stability in slippery conditions. They are also very durable.
Crepe Soles

Crepe soles are made up of rubber, and the soles have a rough pattern, just like that of wrinkled paper. The crepe is made from coagulated latex after being through heavy rollers. Though crepe soles are in fashion nowadays, they are not the best soles for durability or traction.
Ridgeway Soles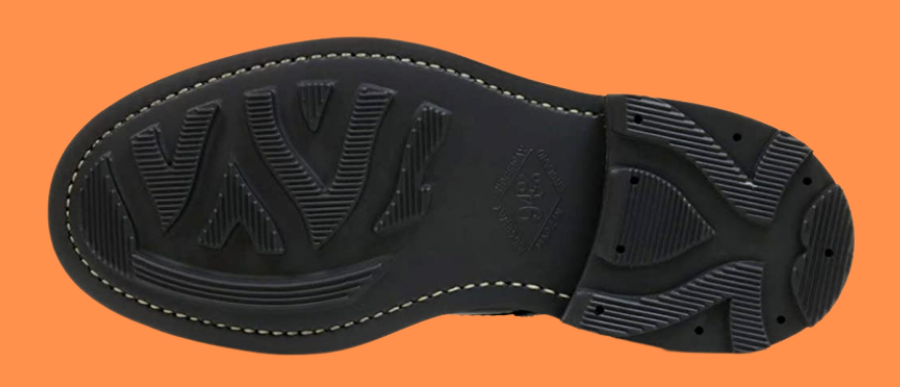 Ridgeway soles are mostly made up of rubber. Their most distinctive feature is the ridges on the sole. These ridges increase the traction of the sole and provide stability. They are also very lightweight.
Commando Soles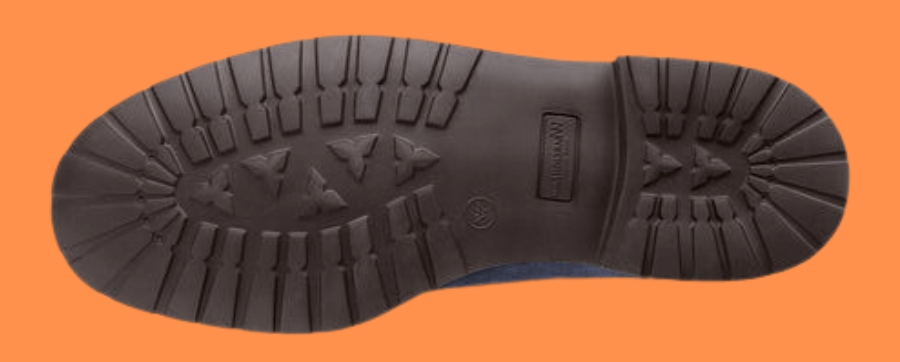 These soles are the chunky and thick soles you mostly see on hiking boots. But these soles are making a comeback in the fashion industry. There are many designer shoes with commando soles nowadays. Commando soles are mostly like lug soles but the lugs on them are shallower. These soles provide great traction and shock absorbance.
Vibram Mini Lug Soles

Vibram mini-lug soles are just like any other Vibram sole but with mini lugs in the center of the sole which are not visible from the side. This sole provides the shock absorbance and support of the Vibram along with the traction of the lugs.
TPR Soles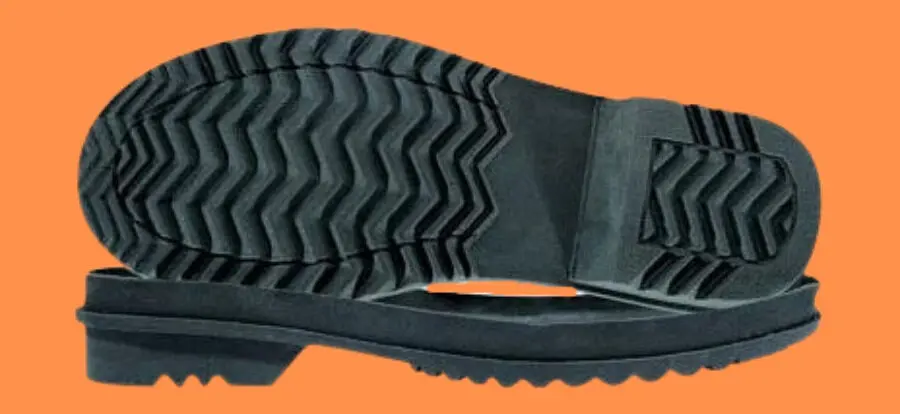 TPR soles which stand for thermoplastic rubber soles are great as they are lighter than PVC. They also have great shock absorbance and excellent slip resistance. They are also more elastic than PVC. TPR is also 100% recyclable.
EVA Soles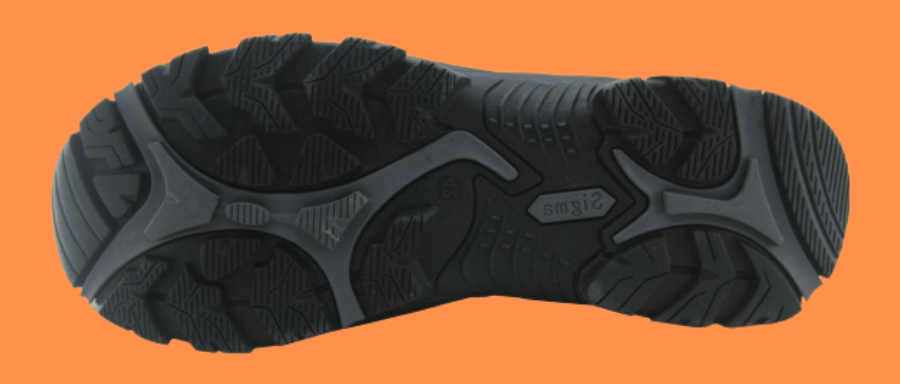 Ethylene Vinyl Acetate commonly known as EVA is also one of the common soles used by shoe manufacturers. This sole provides great cushioning and it also resists cold which means that it is great for winter boots. EVA soles are very flexible and lightweight.
FAQs
What Is a Man-made Sole?
When talking about soles, man-made soles usually refer to soles made out of synthetic materials such as Polyurethane as opposed to naturally occurring materials such as leather.
Are Leather Soles Slippery?
Leather soles do not always provide the best traction, so in answer to your question, yes, leather soles are slippery in most wet and icy conditions.