Best Insulated Work Boots For Winter & Extreme Cold In 2023
Work boots are a staple of any worker, regardless of profession. Outdoor work in cold weather or snow is no walk in the park for your feet. In such an environment, conventional work boots don't provide sufficient protection. Insulated work boots are required for maximum outdoor comfort and protection against cold. As a result, insulated work boots have become the go-to choice for individuals who work on construction sites and anywhere where there are even moderate temperature changes. Wearing these boots can help you avoid frostbite, hypothermia, and other dangerous outcomes if you should ever find yourself in an emergency situation.
Insulated work boots are a form of winter footwear that is made up of a layer of thermal insulation made from synthetic materials. These materials can be used for the outer soles and the shafts of the boots but are often laminated over the shafts to provide better thermal insulation. This combination makes these products one of the best cold-weather wear and offers more warmth than conventional work boots.
After using 25 work boots, we have made a list of the 8 best insulated work boots to make it easy for you to choose the perfect one for yourself.
Rocky Men's Rams Horn Industrial Boot – 800 Gram Insulated
Our Rating: 9.4/10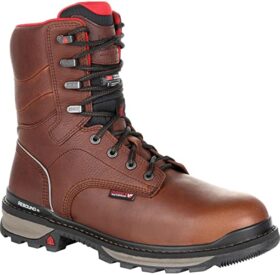 Outer Sole Type: Rubber
Toe Type: Composite safety
Foot-bed Type: Memory foam insoles
Pros:
Excellent waterproofing for working in wet environments.

The work boot has 800G insulation to protect against cold and electric shocks

The memory foam insole takes the shape of your foot and provides the utmost comfort.

The boot has a fiberglass shank for extra support.
Cons:
The shoe can be a bit heavy for some people.
Rocky boots is a footwear manufacturer known for its work boots. Rocky boots have been revered by many and have been in production since 1932, making them one of the oldest shoes in America. This brand has a high clientele among construction workers on both sides of the Atlantic.
The boot's interior is made out of 800 grams of 3M Thinsulate insulation, consisting of lightweight polyester and polypropylene non-woven fibers. This insulation kept my feet dry and warm, even on the winter days when the temperature dropped to the low 40s.

The shoe is made with full-grain waterproof leather, which protected my feet in the rain.
Related: Can You Bleach Leather Shoes?
This boot has a composite toe. As you may know, the composite toe is made up of a mixture of Kevlar, fiberglass, or plastic, which is why it is lighter than a steel toe work boot. And its lightweight made it easier for me to wear the boots all day without leg fatigue. The composite toe is also a great insulator for heat and electricity.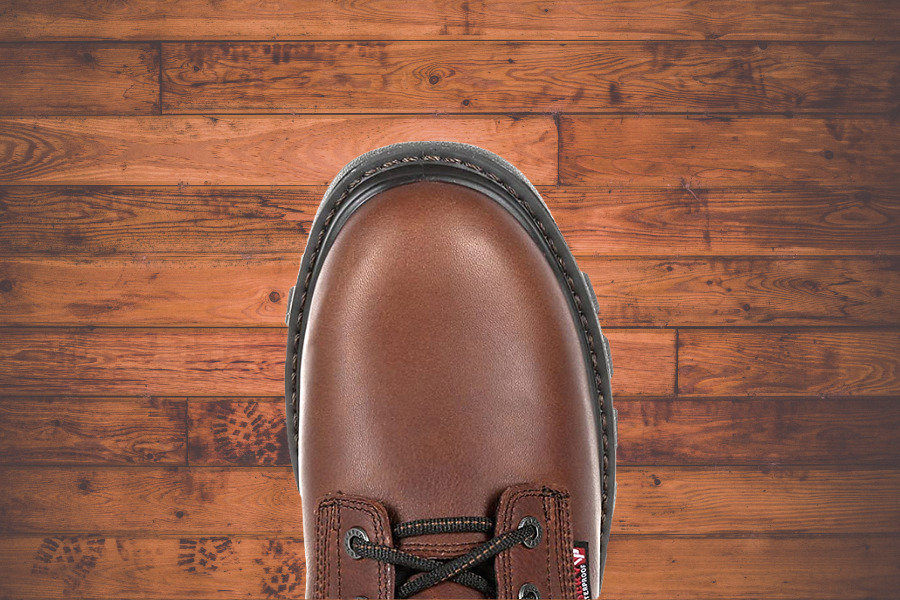 The boot is made according to the ASTM F2413 standards; this standard means that it can bear impact force up to 75 pounds and compression force up to 2500 pounds, which was great since it protected my toes from getting crushed when a heavy block fell on my right toe while working.

This boot has a contoured footbed and fiberglass shank, which allows a more comfortable fit and excellent support. The work boot also comes with a shock-absorbing insole made of memory foam. This helped my feet stay comfortable when I walked around the construction site and also prevented my body from straining over time due to excessive pressure from standing in one place all day long without many breaks in between.

There are lugs on the outsole designed for traction and grip on slippery surfaces. I also use them when I go hiking, the lugs provide stability on rough terrain and uneven ground. On top of that, they disperse the weight of my body over a wider surface area, thereby reducing any pressure placed on my heel or toes.
This boot is designed with comfort, safety, and durability in mind. This work boot has many great features which keep my feet comfortable all day long. People of many different professions have well received them. And most importantly, 800G Insulation is not something you find in many work boots so I would recommend these boots to anyone looking to buy 800G insulated work boots.
Carhartt Men's Ruggedflex Safety Toe Work Boot – 400 Gram Insulated
Pros:
400 grams Thinsulate protects against cold

A breathable waterproof membrane makes it easier to wear all seasons.

The composite toe is lightweight, protects against forces and electrical shocks.

EVA midsole provides great shock absorbance.

Oil-tanned leather gives it a nice look.
Cons:
The Carhartt is a well-known and respected name, especially in the workwear industry. Founded in 1889, this company has provided quality clothing to workers since then. Initially focused on making rugged and reliable work boots for farmers and laborers, Carhartt now offers a wide variety of products for nearly every occupation – from firefighters to electricians.
This work boot features 400 grams of 3M Thinsulate insulation. The lightweight insulation made mobility easy for me without much reduction in protection against the cold.

It has a membrane that prevents water from getting in but allows air circulation that wicks away moisture and sweat to keep your feet dry and comfortable all day long. I worked in 3 inches of water, and they protected my feet, and not only that, but they also kept my feet dry in the summer.

This work boot features a lightweight yet durable rubber outsole. It has an EVA midsole made from ethylene-vinyl acetate, which disperses weight and provides stability. This foam-like material is lightweight, flexible, and cushions my foot with each step. Due to this, it had great shock absorbance when I had to jump multiple times from my truck bed.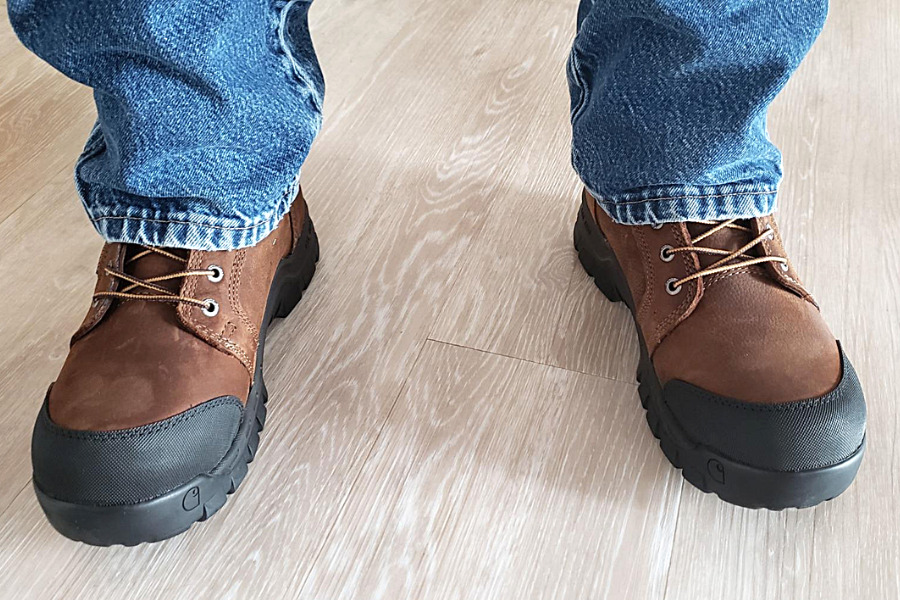 The removable foam cushion insole supported my arches no matter how long I was on my feet. A padded 8-inch shaft height provided comfort and safety to the ankles. And lace-up closure provided a secure fit.

This work boot also has a composite toe, which meets ASTM F2413-18 EH standards. This standard states that this work boot will protect against 75 pounds of impact force and 2500 pounds of compression force, and additionally, it will protect against electrical hazards of up to 18000 volts. This not only made it lightweight and easy to move in but also electric shockproof, which gave me an enhanced sense of safety.
Also, I liked the look of the work boot, and it has nice oil-tanned leather, which really impressed me.
The Ruggedflex work boot is Carhartt's most popular all-around workwear. This versatile, lightweight design is perfect for the widest range of activities. It can be used in any industry and any location every season. This work boot is designed to keep you comfortable in harsh weather and the toughest working conditions.
Timberland PRO Direct Attach 6″ Waterproof Boots – 200 Grams
Pros:
200-gram insulation makes it lightweight and suitable for all weather.

A 6-inch steel toe protects more than just toes.

It is breathable and has antimicrobial treatment, preventing smelly and sweaty feet.

Its outsole has great traction.
Cons:
I have wide feet so it felt a bit constricting.
Timberland is one of the best-known footwear companies in the world. Founded in 1952, Timberland has evolved to become a trusted name for boots and shoes that are both durable and stylish. The company not only makes footwear but has a clothing range with many different products.
Timberland PRO Men's Direct Attach Work Boot is a durable work boot made for protection in all types of weather conditions. It has 200-gram insulation, which for me is good because it made the work boots lighter, and it was easier to walk with.

These work boots have outstanding waterproof technology. They are seal-seamed waterproof boots made up of rugged leather. And its waterproofing lasted longer than many of its competitors. It is also breathable and has a moisture-wicking lining with antimicrobial treatment, which prevents my feet from sweating and getting smelly.
It has a polyurethane footbed that cradles my foot and adds to the comfort of this shoe. I did not feel any fatigue in my feet even after wearing them all day. It also absorbs shocks from walking on concrete all day. And the 6-inch padded ankle collar gives comfort and support to my ankles.
This boot features a 6-inch steel toe, and it meets the standards ASTM F2412, ASTM F241, and ASTM F2892-18. As explained before, it means that the steel toe can bear forces and prevent the feet from crushing. Even though the toe is steel, there is secondary underfoot protection against electric shocks. It indeed is up to standards.

It has a rubber outsole that is slip, oil, and abrasion-resistant. I gifted a pair of these to my friend who works as a mechanic, and he says that it grips really well even on oily surfaces.
Related: How To Restore Timberland Boots Color?
This Direct Attach Work Boot is lightweight, durable, and extremely comfortable. It's one of the best work boots I've ever owned. Timberland has been in business for over 50 years, so you can be sure that this boot is made with great craftsmanship and quality control. I highly recommend this work boot for anyone who spends a lot of time working in harsh conditions, lifting heavy things, and needs protection from rain, wind, and snow.
KEEN Utility Davenport 6″ Comp. Toe Boots – 400 Grams Insulated
Pros:
It is 10% lighter than steel-toe work boots

400-gram insulation keeps the feet warm

Cushioned insole and PU midsole to absorb shocks and protect feet.

Insulation is breathable to prevent sweating.
Cons:
I had to replace the insoles after some time (Insoles are removable).
Keen is a brand of shoes designed for the outdoors. Designed with adventure in mind, Keen shoes are meant to take you from your home outdoors to wherever your heart desires. Keen produces a wide range of shoes, from sandals to work boots and everything in between.
This work boot is insulated and waterproof. It features a 400-gram Keen Warm insulation that protects heat, wicks away moisture, and is breathable. It reaches up to my shin and keeps my feet warm in cold weather while allowing air circulation to let vapor out without letting water in, keeping my feet dry. The waterproof material repels moisture from the outside of the insulation, making sure that no water will leak inside. It also has a natural, probiotic-based technology called cleansportnxt for preventing odor and mold growth when I spend a lot of time outdoors during the job, even on rainy days.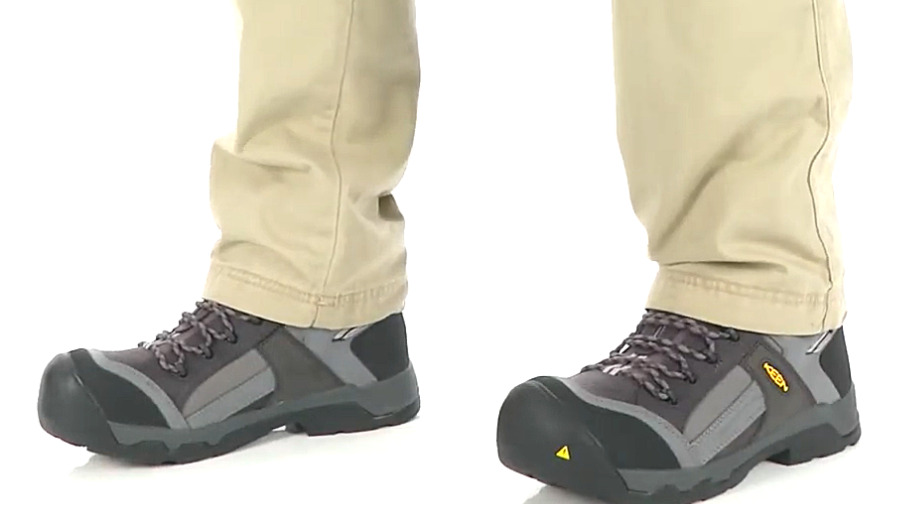 The Work Boot is made from a durable and flexible material, making it possible for me to wear these boots for a long time. The work boot also keeps my feet comfortable and warm throughout the workday. It is designed with a cushioned insole and a PU midsole that absorbs impact when I step down, protecting my feet from sore spots and injuries.

This boot features a composite toe that is 10% lighter than steel and meets the ASTM F2412 and F2413 EH standards; it protects from impact and compression forces and protects from electrical hazards.

The grooves and lugs on the outsole keep this work boot comfortable by allowing natural foot movement and stability even on ice; I was able to walk all day long without getting sore or tired. The boot is also oil and slip-resistant.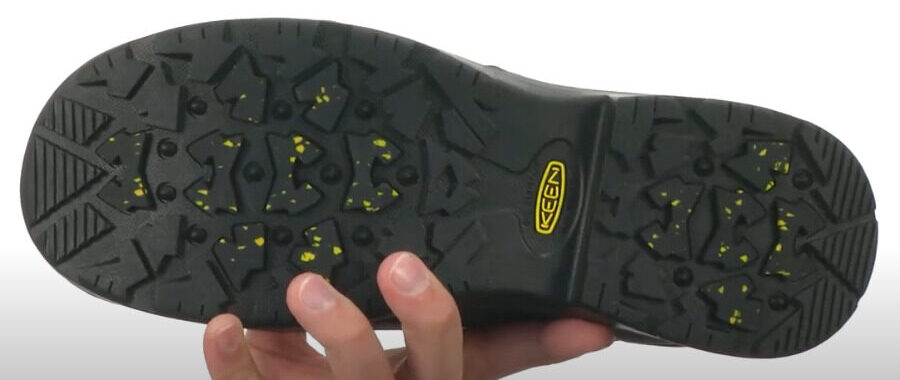 This work boot is designed to last through years of harsh working conditions and high-output jobs. It is made from premium-quality material. These boots keep me comfortable when I am working in a cold environment and their traction on ice impressed me a lot. If you need a durable work boot to use in snow, this is the one.
RefrigiWear Platinum Leather Work Boots – 1000 Grams Insulation
Pros:
1000 gram Thinsulate insulation protects even in the blistering cold.

DRI Blaze lining keeps feet dry.

VITA comfort provides ultimate comfort, support, and shock absorbance.

The full grain black leather upper gives it a nice look.
Cons:
It is a little bit heavier.
RefrigiWear is a footwear company that specializes in foot-warming shoes, boots, and slippers. Myron Breakstone founded it in 1954 to produce footwear and clothes to keep everyone warm in demanding conditions. Since then, RefrigiWear has become a staple in the general outdoor world because it meets demanding requirements.
These boots not only are waterproof but also have a substantial 1000-gram Thinsulate insulation. Due to these work boots, I was able to keep my feet warm and maintain my body temperature when working in blisteringly cold and rainy weather.

It features the VITA Comfort technology, which contains cushioned insoles that make it pleasingly soft and provide arch support and a comfortable walking experience. It also includes a lightweight midsole that provides superior support and absorbs shocks that help curtail foot, knee, and back pain. And finally, the Vibram outsole is slip-resistant and has lugs for extra grip and traction on the ice.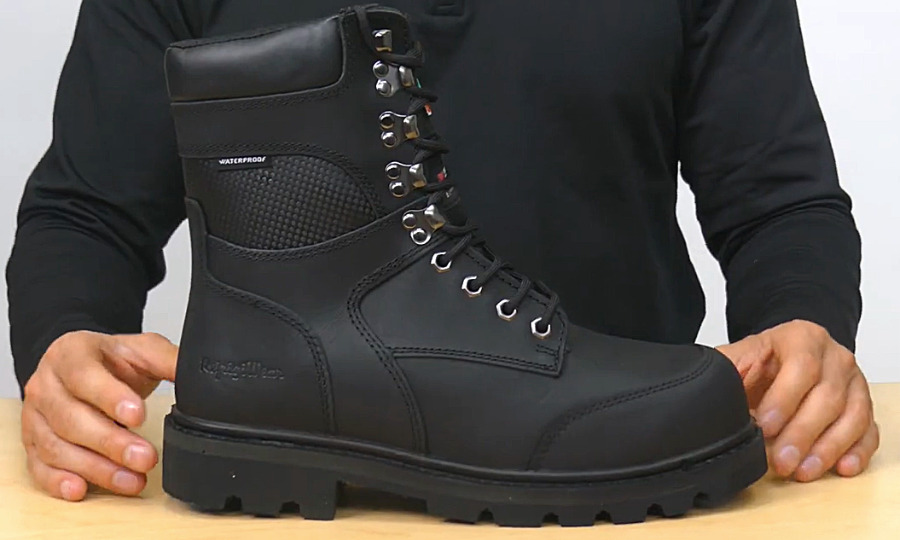 The boot holds a composite toe that makes it lightweight without compromising toe protection. It is also compliant with the ASTM F2413 standard and protects against electrical hazards. The shaft length is 8 inches, and the boot has a full-grain black leather upper, giving it a nice aesthetic look.
I was highly satisfied with the quality of these boots and the comfort that comes with wearing them. These boots are incredibly functional and stylish, making them the perfect gift for men who need to stay warm. 1,000g insulation is highly rare to get in any boot. I bet you can wear these boots even at -40°C.
Thorogood V-Series 8″ Waterproof Comp. Toe Boots – 400 Grams
Pros:
Semi-oblique composite safety toe makes it lightweight and protective.

400 grams 3M Thinsulate insulation is helpful in winter.

Polyurethane insole and Chevron outsole provide the perfect support and comfort for daily wear.
Cons:
Leather got some scratches but I was able to remove them with a leather conditioner.
Weinbrenner Shoe Company, the maker of Thorogood boots, makes boots for people of all ages and sizes. The company started in Lancaster, Pennsylvania, back in 1892. Thorogood boots are renowned for their proud history, superior craft, and unrivaled comfort. Thorogood's boots are a tried-and-true for getting the job done.
The Thorogood Men's V-Series Boot features a 400 grams 3M Thinsulate Insulation that keeps the feet warm and insulated no matter what type of winter weather I was exposed to, from extreme heat and snow to blizzards and rain. The insulation is designed to trap warm air around the feet for optimum warmth even after hours of wear in freezing weather conditions.

This boot is made with quality material, and it is also highly resistant to water; even when I was working in a wet environment, I did not have to worry about my feet getting wet and cold.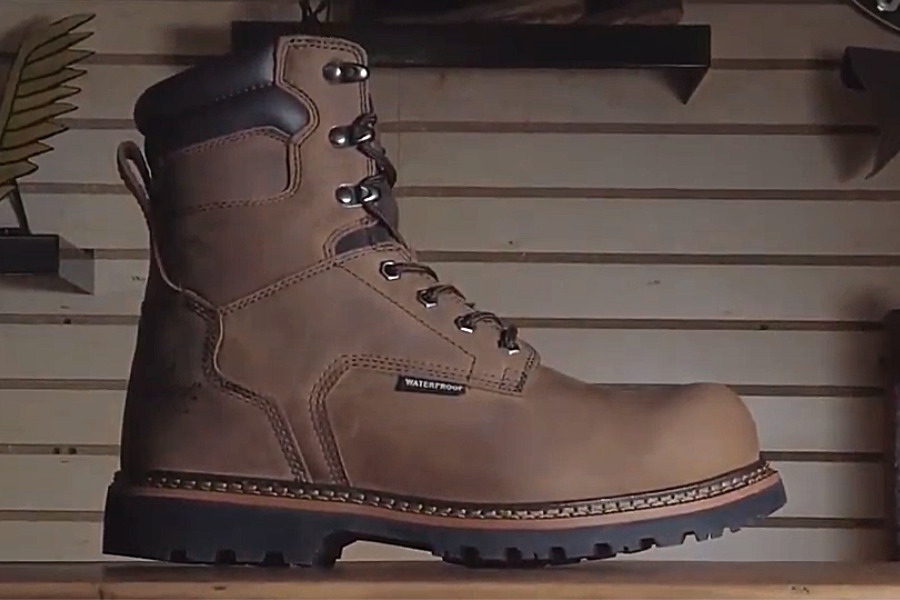 It has a Semi-oblique composite safety toe, and I wear it around all the time without having to worry about getting hurt in the workplace. It saved my toes once when a hammer accidentally slipped from my hands. This enables me to continue working for hours without feeling any hurt or pain in my toes. It follows the ASTM standard and can handle high impact and compression levels.

It has a Polyurethane insole, which provides my feet with the support they need and offers maximal shock absorption while keeping my feet comfortable all day long. It also has a composite shank that gives me support and stability and provides rigidity to the boot. The Chevron outsole is oil, chip, abrasions, and slip-resistant providing an excellent grip and traction when walking on uneven and slippery surfaces.

The boot has Crazyhorse Leather and a classic lace-up look so that you can wear it with casual clothes or work clothes.
This work boot is designed for working men that need a tough boot with superior comfort. Its exceptional durability allows you to get the job done without sacrificing comfort or safety. If you're looking for a tough-as-nails work boot, then this work boot is perfect for you.
Carhartt Men's 10″ Waterproof PAC Work Boots – 1000 Grams LiteFire
Pros:
You will love 1000 LiteFire insulation even in extremely cold weather.

It's Breathable enough to keep the feet dry and sweat-free.

TPU heel guard provides safety and comfort to the heels.

Composite shank provides support and dissipates impact forces.
Cons:
The leather on the neck is a little stiff at first.
For those who love boots, Carhartt manufactures a variety of quality footwear. Best known for its work uniforms, Carhartt also makes casual shoes for men, built to last. They come in popular styles like diver boots and lace-up sneakers. Carhartt is the perfect company when it comes to your feet with outstanding products.
These work boots contain 1000 LiteFire insulation. 1000 LiteFire is a waterproof, breathable aluminum membrane that keeps my feet warm and cozy without the weight or thickness of conventional insulation. It also features Storm Defender waterproof protection, and a water-resistant, breathable raincoat. These shoes are entirely waterproof and keep my feet dry by promoting airflow and circulation to prevent sweating.

The work boot comprises a composite safety toe that protects against impact and compression hazards if something heavy falls on the foot. It is up to the ASTM F2413-18 standards. It also provides protection against fortuitous contact with live wires of up to 18,000 volts in dry conditions. Since its composite safety toe meets ASTM F2413-18 EH standards, I recommended these boots to a friend electrician and he is very much satisfied with the quality, comfort, and protection of these work boots.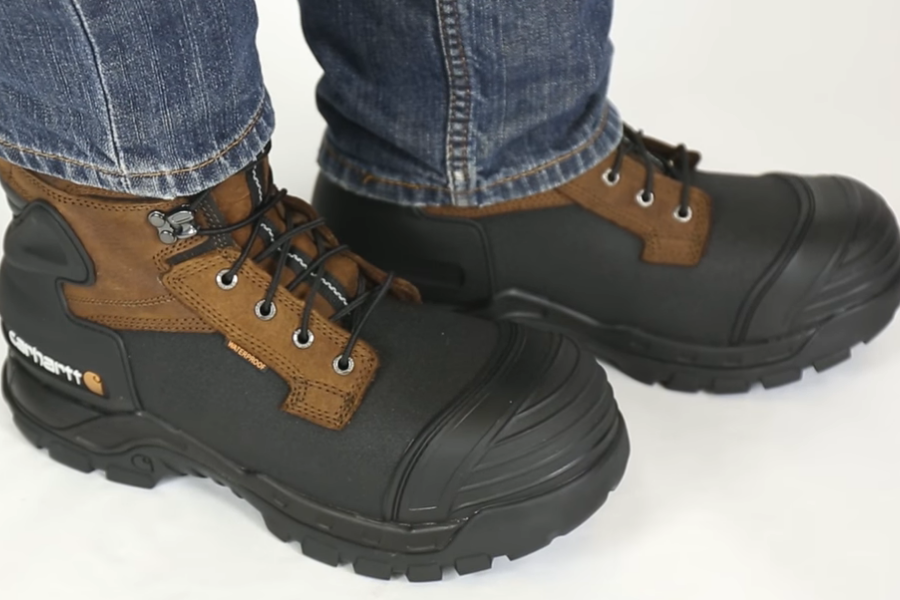 The work boots have a 100% leather upper, which gives them a nice look. The composite shank works to dissipate impact forces from my feet to the ground. This helps my feet and legs avoid fatigue. The ribbed rubber outsole provides excellent traction for wearing this boot for long periods. The durable construction keeps the boots strong and flexible, providing the comfort I need throughout the workday. It also has a TPU heel guard with an Achilles flex joint, offering ankle stability, side-impact safety, and heel safety.
One of the most comfortable boots I've worn to date. I can swear this boot has great arch support. It is warm and safe, with a safety toe that helps protect you from kicking anything that can hurt you – which means your feet will stay safe when wearing it! This boot is best for industrial work and if you're going to be doing a lot of walking because the sole on this boot is very grippy. The shoes have never slipped on me, and they fit my foot perfectly.
Irish Setter Mesabi 8″ Waterproof Logger – 600 Grams Insulation
Pros:
400-600 gram Thinsulate keeps feet warm even in freezing temperatures.

EVA Ethylene-Vinyl Acetate insole provides extra comfort and shock absorbance.

GORE-TEX waterproofing keeps the feet dry.

The boot has a durable leather upper which is resistant to cracking and peeling.
Cons:
The shoes are on the heavier side.
Irish Setter Boots is a shoe manufacturing company that was founded in the year 1950. The company is known for its boots characterized by their plaid pattern, buckles, and dainty leather. It quickly became very popular with farmers and Native Americans, to whom durability was of utmost importance. Today, Irish Setter Boots has many stores globally and is considered a premium shoe brand with stylish looks and technical materials.
This work boot by Irish Setter boots holds 400-600 gram Thinsulate insulation which kept my feet warm and cozy when I went hunting during the winters. The boot was comfortable throughout the trip.

It also has GORE-TEX waterproofing and a full-grain leather upper, ideal for hunting in muddy or wet conditions, and provides air circulation to keep your feet dry and sweat-free even in hot working conditions.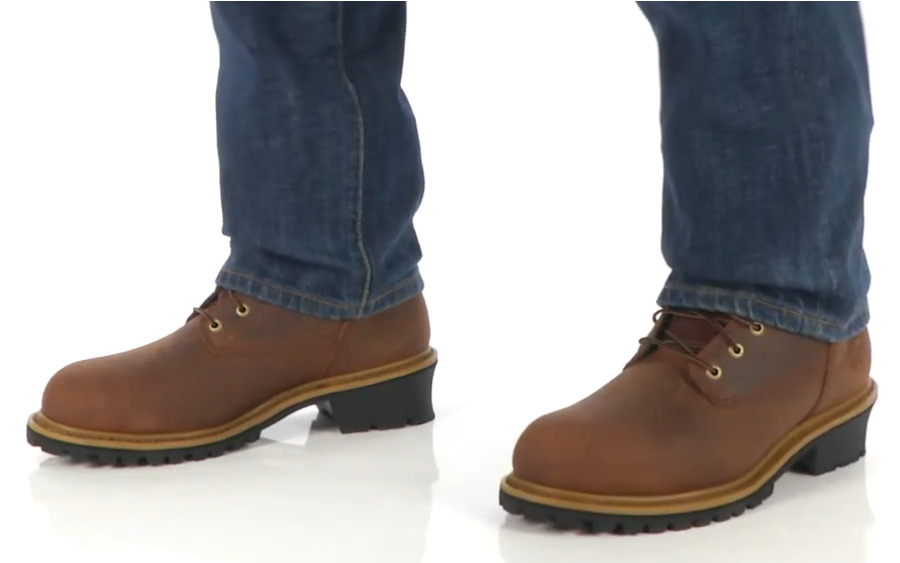 One of the most important considerations in choosing a boot is whether or not it will have adequate support and stability. I wanted a boot with a strong outsole that should provide great stability when walking for long periods on uneven surfaces. These work boots have a Vibram rubber outsole which offers plenty of support and stability.

Its rubber outsole has lugs that offer additional traction, which can help workers retain their footing on uneven

surfaces

; it was best since I was traveling through various terrains while

construction

. It has an 8.5-inch high shaft that protects my ankle from the thorny

shrubs and harsh weather

.

They have EVA; Ethylene-Vinyl Acetate insoles, ensuring that I get maximum comfort, even when standing on my feet for long periods. The shock-absorbing cushioning system in these boots also helps to absorb shock.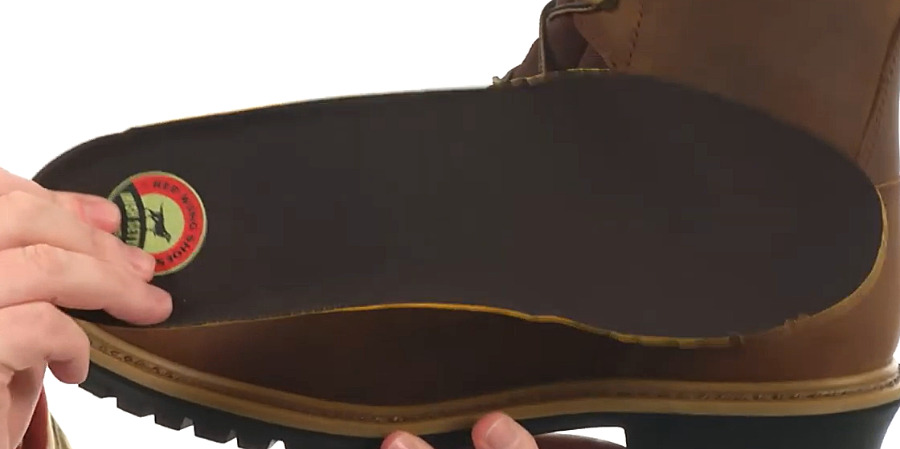 These boots are lightweight and durable, with a full-grain leather upper resistant to cracking and peeling. Boots are sturdy and protective; they are designed with steel toes to prevent them from being crushed by heavy loads or other hazards. Steel toe boots also have additional safety features such as electric hazard protection, and these boots meet the ASTM F2413-18, M/I/C, and EH standards. Apart from that, the boot also features a lineman steel shank to support the arch of your foot.
It can be challenging and uncomfortable to walk long distances but with these boots, it was like a walk in the park. They offer an array of features to provide a dry, comfortable, and warm experience, in the end, it is certainly one of the reasons Irish Setter has been the choice of working men for decades.