2023's Best Work Boots For Concrete Workers
Concrete is a dense constructing material mainly used for sidewalks, floors, walls, bridges, and buildings around the globe. It has a lot of strength, but on the other hand, it surpasses the high safety risks of fall downs, a shock to the legs, slips, and glides.
As I used to work in a factory made of a concrete floor I know our work requires reasonable time on feet, continuous movement, and standing on concrete all day affects the feet. For these reasons, work boots are considered important safety equipment. Apart from being sturdy and durable, work boots should be comfortable enough to minimize the negative effects of concrete.
Since I have worked on concrete surfaces for years, I've used 21 famous brands' work boots, out of which I found these 8 as the best ones so far considering comfort, resistance, safety features, design, and material.
ARIAT Rebar Flex 6″ Waterproof Composite Toe Work Boot For Men
Pros:
The composite toes don't conduct cold and are lightweight.

Its rubber sole provides slip resistance

Builtin 4LR technology minimizes foot fatigue

Insulated boots keep my feet warm
Cons:
If your feet are broad and flat like mine, order a half size big
ARIAT brand makes world-class western shoes with advanced technology, and its key features are lightweight flexibility and good performance. Their shoes help me increase my productivity at work.
These boots are manufactured of EVA midsoles with good shock absorption that distributes feet' weight and stabilizes my footsteps while walking on concrete. I have worked in winter, and they provided the maximum resistance on wet concrete and also helped with friction on oil and greasy planes.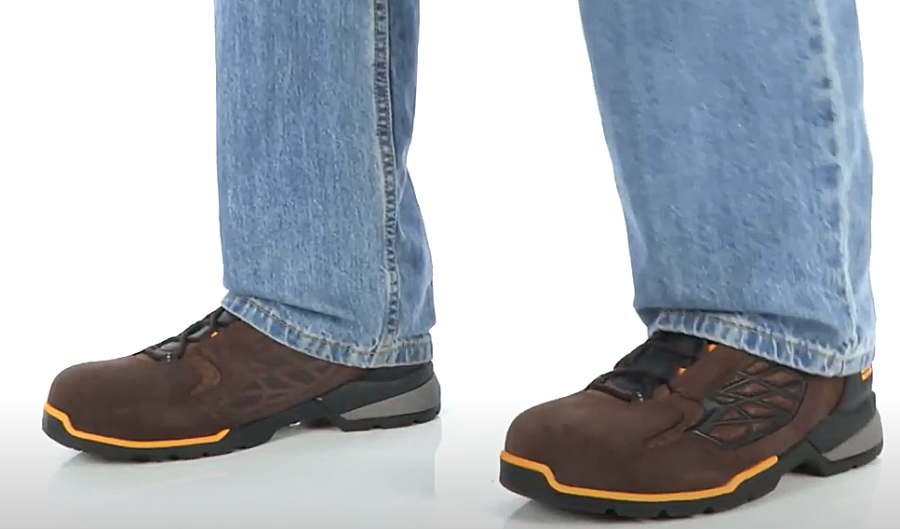 The insole is stuffed with extra cushioning for maximum comfort and relaxation of foot muscles. Moreover, its four-layer rebound (4LR) technology offers incredible support and reduces foot fatigue when I work for long hours on hard surfaces like concrete and metal.

Its Duratread tractor-inspired outsole is thick and heavy-duty, designed in a way so that my boots do not collect litter, mud, or snow when I have to run or walk outdoors.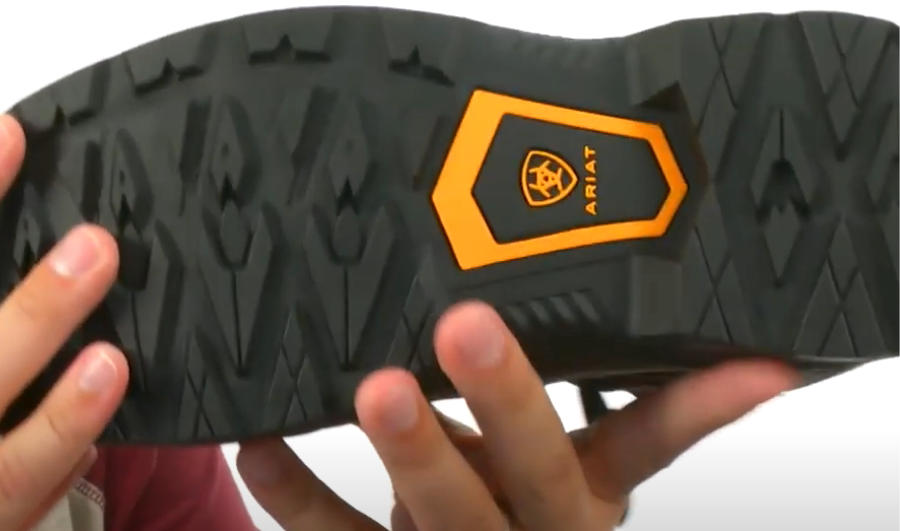 The boots have ASTM F2413-11 M/I/75 C/75 EH, which means your feet would be safe from any injury or shock.

They are made of waterproof leather, which kept my feet dry when I worked in rainy conditions.
These super lightweight boots with cushioning on insoles give the maximum comfort that you can have on the job. 4LR technology soothes your sore feet and its heavy outsole not only provides friction on concrete but meets ASTM standards too. These are the ultimate survival work boots for a construction laborer!
WOLVERINE Men's Overpass 6″ Composite Toe Work Boots
Our Rating: 9.9/10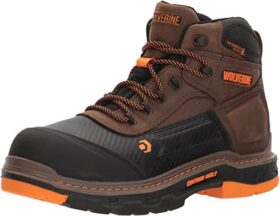 Sole Type: Rubber
Toe Type: Composite
Foot-bed Type: Removable OrthoLite
Pros:
The boots meet ASTM F2413-11 standards that promise protection from electrical hazards

These boots have Ortholite insoles, which have antibacterial properties

Good arch support against tug or pull

Laces pass through the hooks smoothly
Cons:
The sole felt hard at first, but it gets soft after a few days
Wolverine is an American shoe brand that covers the aspects of performance, comfort, and conduction side by side. Its footwear is made with traditional craftwork contributing rich quality. Let's see its shoes' features that I am totally satisfied with.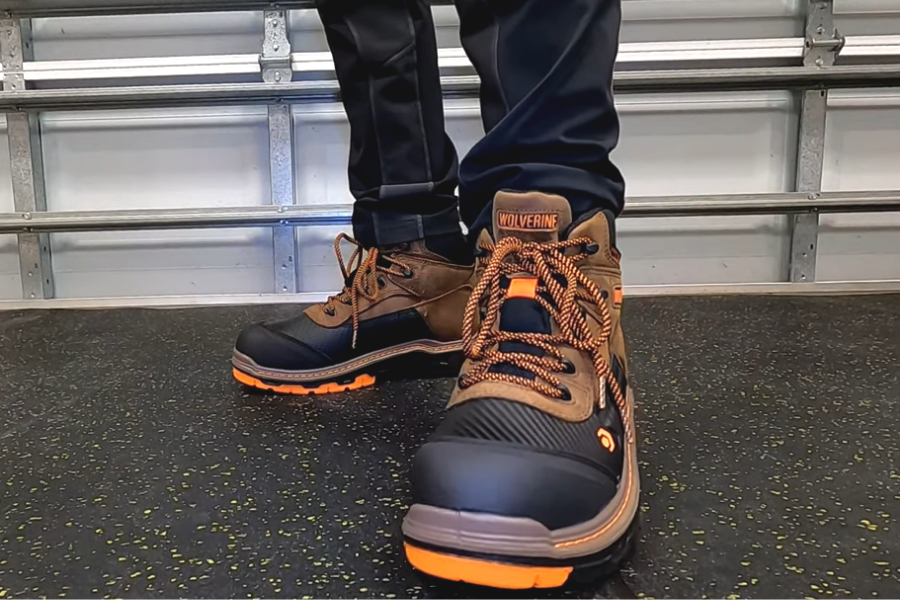 Wolverine boots are an excellent choice for those in the construction industry. Its shock and jerk protection kept my feet safe from any pull or twist while working on a hard and rough plane. Furthermore, its outer sole is resistant to slip, oil, water, abrasion surfaces, and chemicals.

The outsole is thick yet flexible, protecting my feet when I accidentally step on sharp metal scraps. The polyurethane rubber on the sole helped me have a strong grip on the concrete. It has ortholite insoles that allow air circulation and keeps my feet from sweating or smelling bad.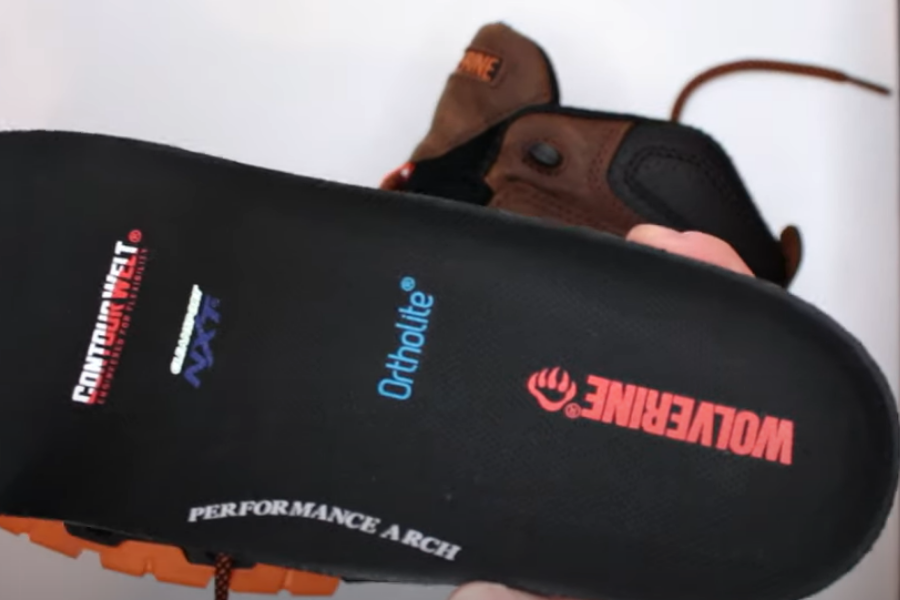 Carbon max toe-cap with nanotechnology makes the safety toe firm yet lightweight. It is thin enough for a good fit. Other than this, its motion max technology gives smooth bending and flexibility for a run, walk or jump on concrete.

Its waterproof leather works best in wet areas and keeps my feet dry all day. Plenty of cushioning on the shaft and the tongue will give out the most comfort to the feet so that they will not get tired during hard work.
Well-built boots with great shock absorption keep the feet safe from any problem. Also, they provide good friction against oil, water, and abrasion planes. Its thick outsole gives extra protection to the feet, while the ortholite insole promotes airflow. Don't miss this chance to have them!
Thorogood Wedge Outsole 6" Steel Toe Work Boots For Men
Pros:
The boots having a wedged sole helps to have a strong grip on the concrete

Also, its Poron insole never loses its shape even after years

Its design is light and flexible

Oil-tanned leather makes the boot soft and flexible and also promotes airflow
Cons:
The sole gets dirty because of its light color but can be wiped out easily
Thorogood Vintage is a well-recognized brand for manufacturing durable outsoles considering ironworkers and concrete workers. Their work speaks for itself and we have seen it all.
Their construction boots are ideal for my everyday usage as they comprise removable Poron insoles with high rebounding that never loses their shape. Dual-density cushioning on the insole gives the most luxurious comfort that a concrete worker might need. Moreover, it consists of air-permeable cells but combats water coming in.

The boots have absorption-resistant outsoles, which keep my feet protected from accidental impact with hard concrete. And its soles have an electrical shock resistance of 18,000 volts. They gave me a strong grip on wet concrete and gravel paths.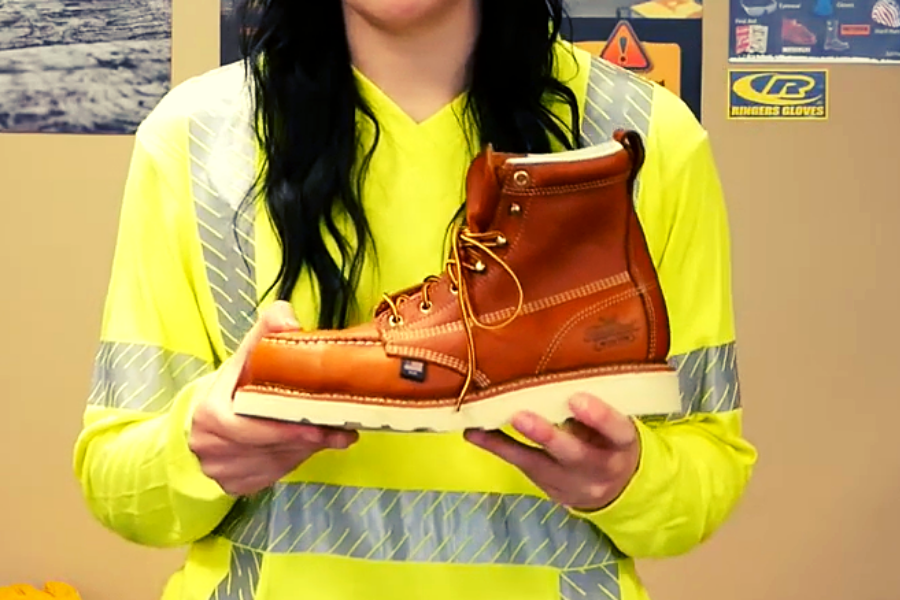 Go to boots for mechanics, electricians, and concrete workers being ASTM F2413-18 standardized.

They have flat soles, making it easy to walk on concrete when I work for good 10-12 hours. And its chunky max wedge sole is durable and makes the shoes long-lasting for 4-6 years.

Additionally, the fiberglass shank construction offers the strength and flexibility required to step on hard ground. And the steel toe safeguards my feet from on-the-spot compacts. The oil-tanned full-grain leather not only makes the boots flexible, soft and cozy but also conducts the air, so my feet breathe in summer and its leather evolves patina overrun that looks even better after years.
Stimulate your feet movements at your job that demands long working hours. Its Poron insole offers maximum comfort to my feet and is never deformed even after years. Moreover, it has good electrical and slip resistance having ASTM standards. In contrast, the tobacco oil-tanned polishes itself after several usages. All these pros, along with Fiberglass Shank, make this boot a reliable and best work boot for Electricians, Welders, Mechanics, and Construction workers.
Timberland PRO 6" Boondock Composite Toe Insulated Work Boot
Our Rating: 9.8/10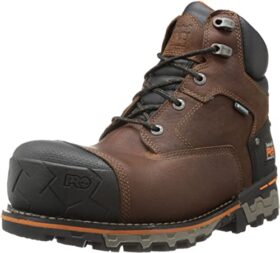 Sole Type: Synthetic
Toe Type: Composite
Foot-bed Type: Thermoplastic Polyurethane
Pros:
The boot's insole has anti-fatigue technology that reduces the exhaustion of muscles

EVA guard leather makes the boot long-lasting

The thick rubber on the heel helps in easy putting on and off

Finely stitched
Cons:
Timberland Pro boots are specially engineered for secure working on concrete areas. Their shoes are perfect for those who work manually for long hours. Other than my job, I've used these for walking miles.
The boots have a TPU outsole that holds traction against slip, oil, and abrasion planes. They have good resistance to slippery and rough surfaces, so I step on dry and wet concrete without fear of falling.

My feet never get tired when working for long days because of the anti-fatigue technology in the insole, as it reduces the soreness and fatigue of stretched muscles of the foot. It also has a shock absorption feature that returns energy to the foot for support and comfort.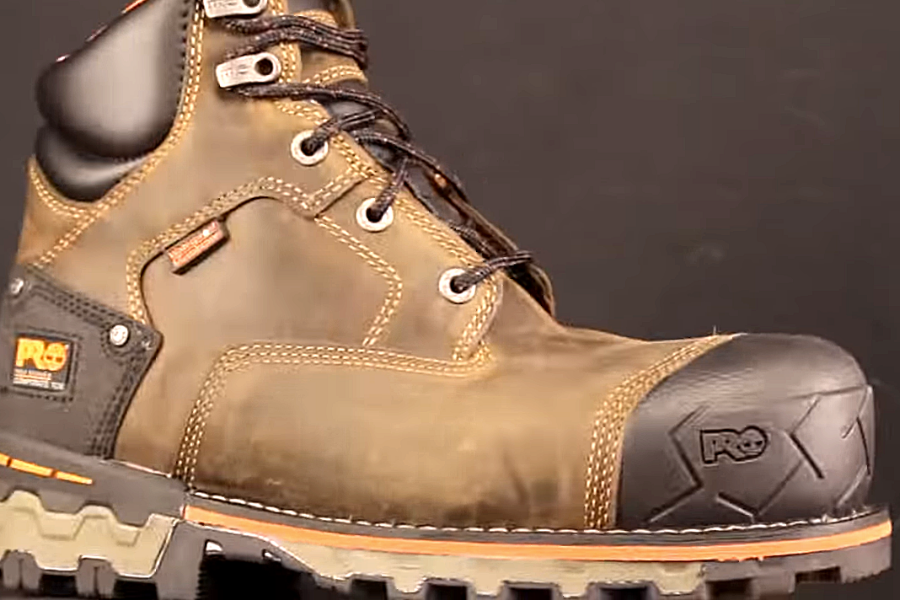 Moreover, its rubberized composite toe has abrasion resistance and protects my toes from shock when they get in contact with hard concrete.

These are the most demanding shoes, which provide protection and durability throughout. It is constructed with a waterproof membrane that doesn't let water in, and an insulating membrane keeps my feet warm and cozy in winter.

Also, the padded collar keeps my ankle in place, so it does not supply jerks and gives out the most comfort. It has a relatively large toe profile that offers enough movement space and barely touches the top.
The boots have good shock absorption and have slip and oil resistance. Anti-fatigue technology eases sore feet muscles and a rubberized top keeps my toes protected. These boots are an everyday must-have if you want them for construction work or walking on concrete all day!
KEEN Utility Men's Steel Toe Waterproof Work Boot
Pros:
Its gel-filled insoles give extreme comfort and a cooling sensation to my feet

Asymmetrical steel toe to keep all the toes protected

Reinforcement on heels helps me to have a strong grip on concrete surfaces

Waterproof boots that do not feel wet
Cons:
They feel a little heavier
KEEN footwear has a signature style of the embedded midsole in contrast with rigid sole, making it an ideal fit for laborers.
The boots have better performance and protection because of their shock absorption capacity, which lets me work confidently on the concrete floor without fearing injuries or jerks. Also, it has solid protection from electrical shocks. Moreover, it imparts a strong grip on a slick plane.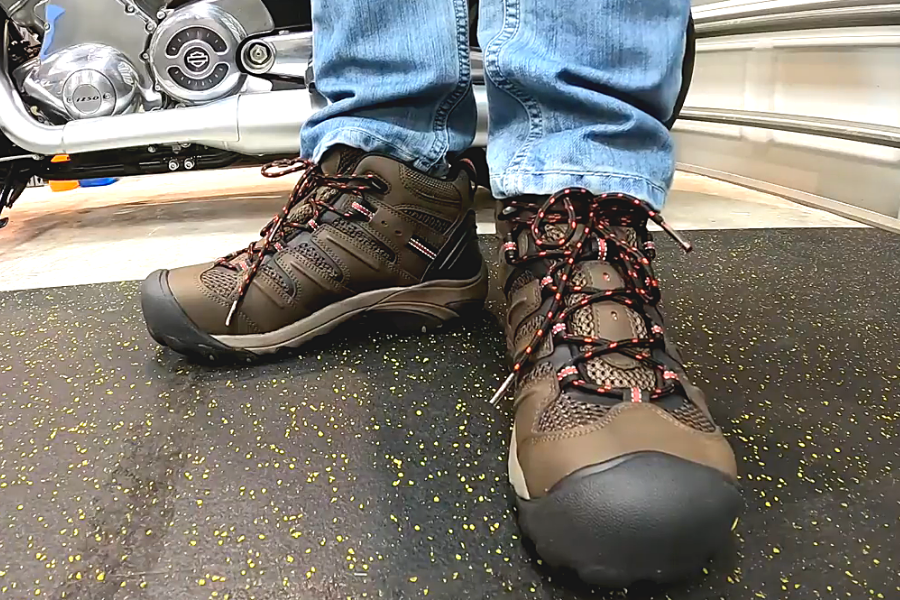 I have tested them on a variety of surfaces like concrete, sand, rocky roads, asphalt, dry/wet grass, or even flat surfaces like tile and marble and they worked well on all these planes because of their rubber sole and the added pattern on the bottom side have impact resistance. On the other hand, the insole is well cushioned and made up of gel which gives a soothing and cooling effect on my feet when I work on my feet all day.

A waterproof membrane with mesh lining doesn't let water in and keeps my feet dry, while the breathable membrane promotes airflow. Its probiotic technology kept my feet away from odor.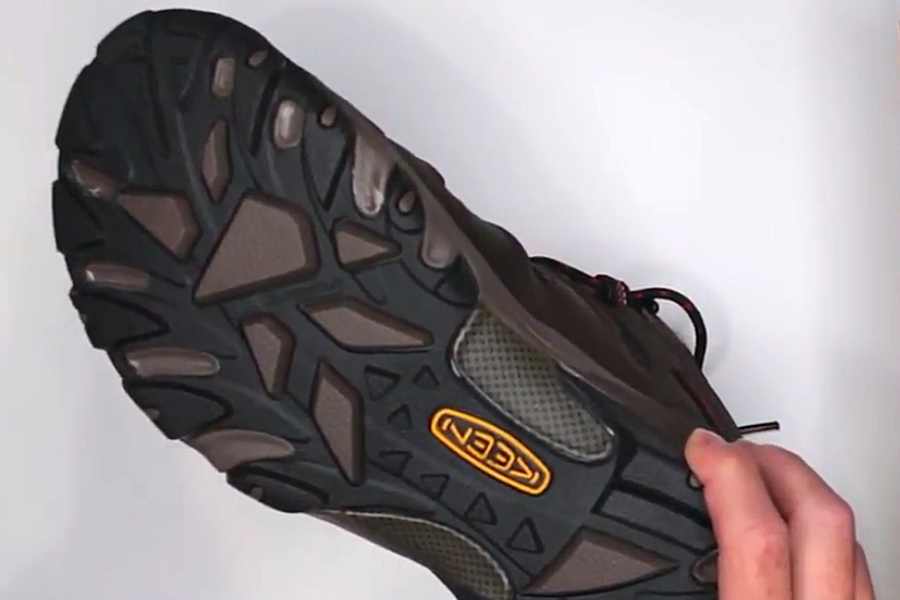 These boots are built with the ASTM F2412 and F2413 standards. ASTM F2412 measures the safe resistance to compression, impact, and electrical shock. Whereas, ASTM F2413 covers the performance of boots, including the design and fit.
These are good boots to survive on jobs, climbing, and hiking, with good shock, oil, and slip resistance. Moreover, the outsoles are sturdy, which helps me get a strong grip on the ground. And the insole is filled with a gel that will ultimately soothe sore muscles. The boots are quite demanding for concrete workers!
Irish Setter Men's 83910 Marshall 11″ Pull-On Steel Toe Work Boot
Pros:
Outsole prevents feet from electrical hazards

RPM technology doesn't put weight on feet

Wide top provides space for toes

The welted sole gives more durability
Cons:
My feet get warm in summer, so I would suggest you wear them in winter and moderate weather
The Irish company covers formal shoes to casual wear to outdoor boots. Its work boots are ideal for construction laborers who work in industrial areas, factories, concrete sites, roads, and whatnot!
These boots are slip, oil, heat, and gas resistant, making my feet the most comfortable at every working site. Also, its shock-resistant property absorbs outer jerks and forces, which protects feet from twists.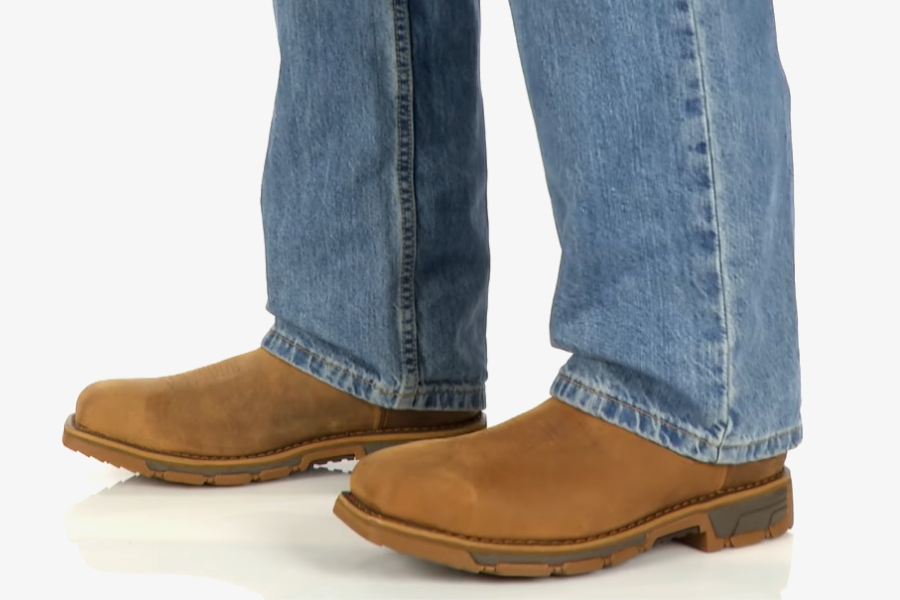 Its midsole is made with RPM technology which is engineered to reduce the weight of boots without compromising comfort and strength. They feel like the most flexible and lightweight shoes I've ever had. Moreover, its midsole fuses with the PU insole, leading to the active movement of my feet at work.
Related: How to clean cowboy boots with household things?
The boots are specially modified to work on all jobs, whether you are a truck driver, construction worker, or tool operator. I've used them indoors and outdoors, and trust me, they stabilize my foot well on both rough and smooth surfaces.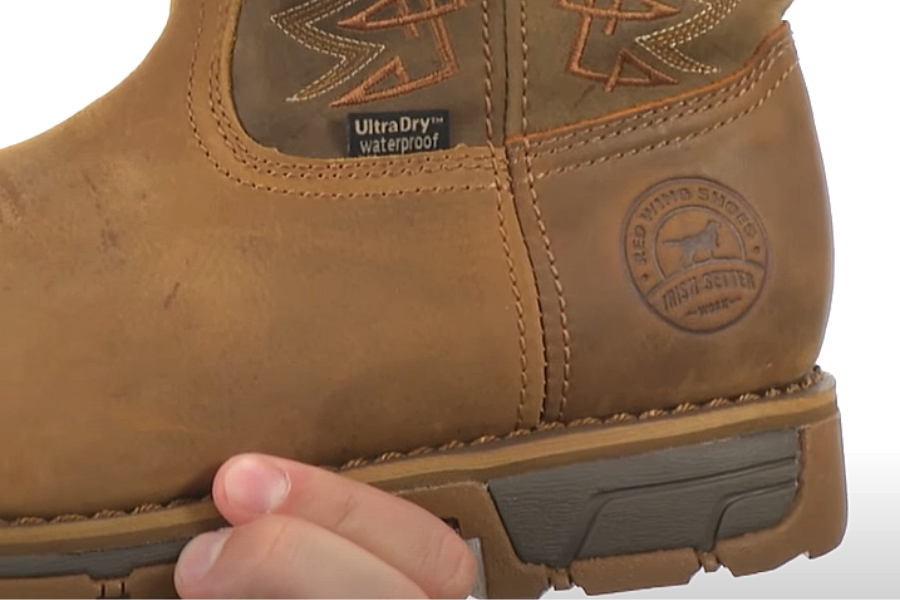 The shoes are manufactured with voluntary ASTM standards F2413-11, protecting the feet against outer impacts.
Related: How to stop boots from rubbing calf?
Similarly, these boots also have a waterproof membrane that does not conduct water vapors and keeps your feet dry all day long in winter and wet conditions. These have a good aesthetic design and their toe area is spacious enough that my wide feet fit in perfectly.
Built-in RPM technology in the boots makes them the most lightweight and gives you the flexibility to move on the concrete floor. And the PU insole is embedded with soft layers to give more comfort to the feet. They are waterproof and meet the characteristics of shock absorption and abrasion resistance. Irish are the perfect wear resistance shoes that will help you go for 10-12 hours on the job!
Premium Ever Boots Ultra Dry Work Boots For Men
Pros:
Shock absorption keeps my feet safe from jerks

Anti-fatigue outsole

Wide toe area for toe movement

Speed hooks for smooth boot lacing

Has around 100 grams of insulation
Cons:
They do not hold a firm grip on the roof
Ever boots have the most durable and affordable shoes specially designed for laborers working at construction sites. You wouldn't find this quality boot in an affordable price range in the footwear market.
The boots have a rubber outsole with tread patterns that allow shock absorption and traction. Hence, I work freely at my job without experiencing any external shocks. And it is designed in a way that barely gathers dirt from the ground. At the same time, the anti-fatigue midsole is quite durable and helps in soothing the sore muscles of my foot when I work all day.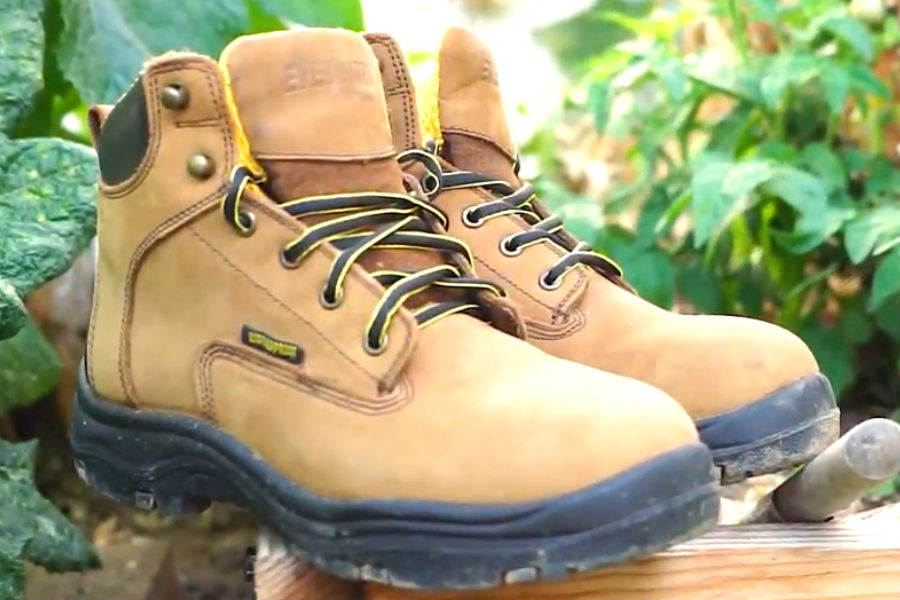 The best thing is that its insole is customizable, so I put it in the insole according to my taste. And the boots gave me a strong grip when working on dry or wet concrete.

As I am a construction worker, I have to visit different site areas, such as concrete, mud, puddle, dry and wet grass, and believe me, they are multi-tasking shoes that can be used indoors and outdoors.

They are 100% waterproof, so the water does not dig into my shoes and keeps my feet dry all day long. So, they can work best for farming, fishing, gardening, and car washing as well. Moreover, its insulation lining ensures that my feet stay warm and cozy in winter.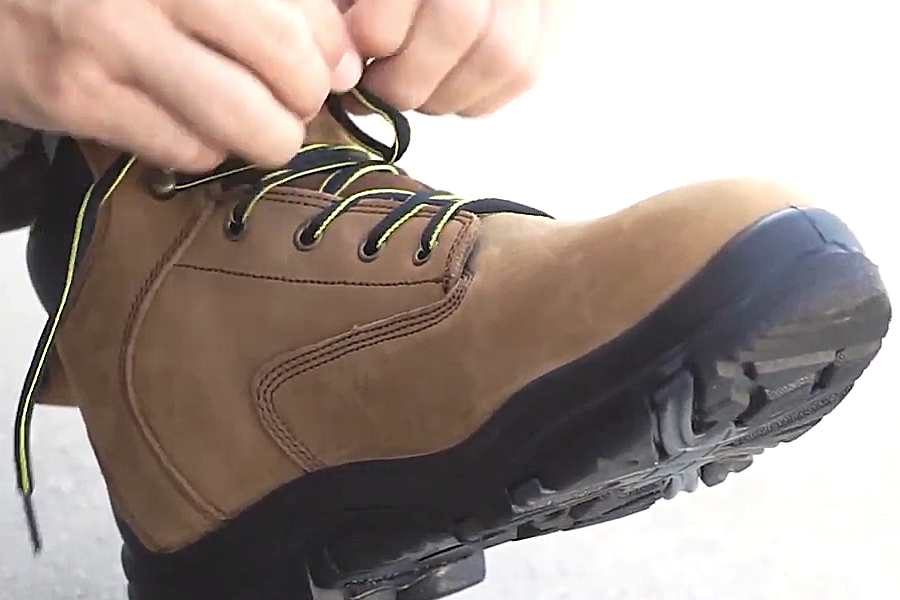 As the bottom is anti-slip, the steel shank initiates pressure while hiking, climbing the ladder, or on a concrete plane.
When your job requires heavy operation for a prolonged time, you just need a pair of durable shoes that fits your taste. They would work best as they have good shock absorption and slip resistance. Also, its midsole is anti-fatigue which means your feet get less tired during hard work on concrete.
Cat Footwear Men's Second Shift Steel Toe Work Boot
Our Rating: 9.5/10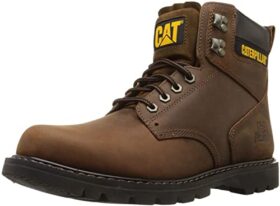 Sole Type: Synthetic
Toe Type: Steel
Foot-bed Type: Custom
Pros:
They provide electrical hazard protection

Built-in nylon mesh lining allows airflow to keep the feet fresh all-day

The shoes are lightweight that don't feel heavy on my feet

Budget-friendly boots
Cons:
The shoes are not waterproof

The insole is thin
The final product we have on the list is from CAT footwear, a well-recognized shoe brand that is true to its goals. They make the most durable construction work boots and casual wear shoes, which have a long run time for even 8 years when you use them with care.
The boots are sturdy and solid, making my feet safe and protected from external objects. Also, they provide a lot of friction against oily surfaces.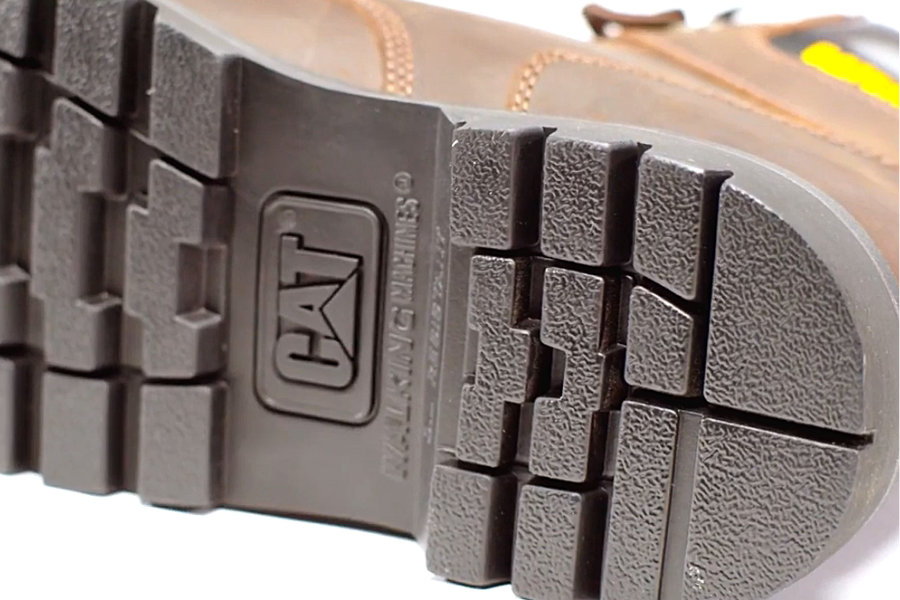 Its heavy-duty chunky outsole is rubber, giving traction and a strong grip on the concrete areas. Other than this, the insole has a polyester lining that keeps the moisture of my feet away, so it does not produce a bad smell while sweating. But, the insole doesn't have enough cushioning, which feels thin to my feet so I had to replace it.

The second shift is designed on its steel toe, offers strength, protection, and comfort, and meets ASTM F2413-05 standards for electrical hazard protection.

I own a brown one, which is my favorite color in boots, and made these work boots quite appealing to me at first sight. Not only this, premium nubuck leather runs for a longer time than any other material could survive on our tough jobs. And the padded collar gives out the optimum support and comfort to my ankles while I work on a concrete plane.
Related: How to make Leather color darker?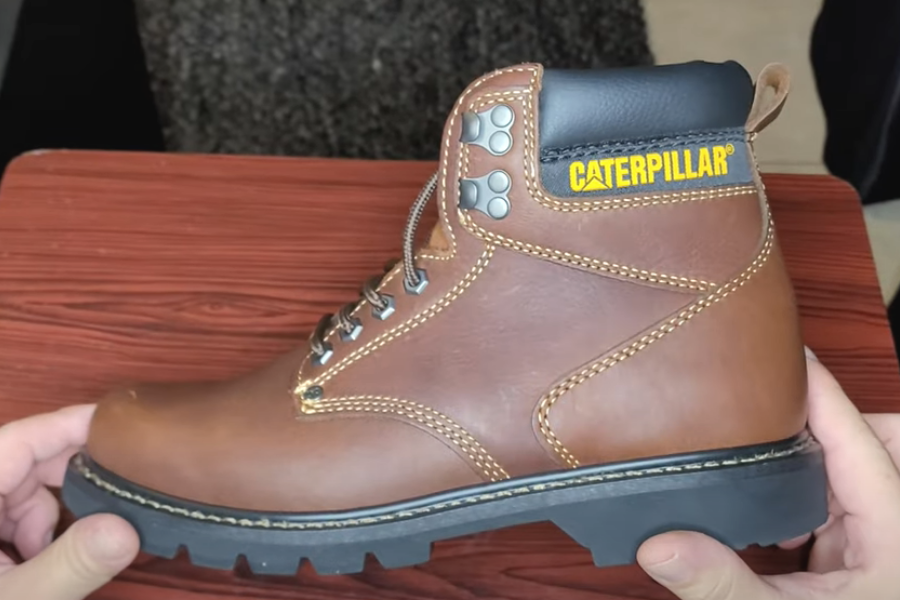 My feet stay dry and fresh all day long due to the nylon mesh membrane, which promotes air circulation inside the shoes.
CAT boots are for you to work throughout the day. These are the most durable work boots for concrete work because of their solid construction to bring back to brand. The heavy outsole gives a firm grip on concrete and good traction on slippery surfaces. Possibly pick them now as I am sure they will win you back!
Conclusion:
The laborers find medical issues over time while walking on concrete all day long as it is hard and chunky which impacts the feet if the boots do not give optimum comfort and support. The boots that I have listed are just a one-time investment as they are durable and have long hours of wear resistance. Grab your favorite one now!