2023's Best Composite Toe Work Boots [Comfortable & Waterproof]
Work boots with composite toe guards are the backbone for laborers and construction workers like us. They not only offer toe protection but make it relatively easier to pass through metal detectors as they don't have a steel toe. Also, composite boots have good insulation that does not transfer electricity through them. So, it is pretty safe to work in hazardous areas where electrical work is being done. As I work for 8-10 hours a day, composite toe boots are the perfect lightweight shoes that make my feet comfortable throughout.
If you work in unsafe or high-risk areas such as construction sites, industries, farm work, or yard tasks, you need to stock with heavy-duty work boots to ensure your feet are safe and sound from any hazard.
According to the Bureau of Labor Statistics, 2.7 million laborer injuries happened last year. For these reasons, I have put maximum time into trialing and examining these composite boots and compiled a list of top comp toe work boots available in the market.
Update: After 6 months of use, ARIAT Men's Workhog Boots proved themselves much better than Danner Men's Vicious Boots so we promoted ARIAT on the list.
Carhartt's 10″ Waterproof Insulated PAC Composite Toe Boot
Pros:
Rubber toe for abrasion resistance

Electrical resistance up to 18,000 volts

TPU heels guard protects the ankle and heel

Waterproof membrane helps at wet sites

Pure leather makes it more durable than other boots
Cons:
Toe boots are a bit bulky
Carhartt constructs footwear with high manufacturing standards to ensure the sterling quality of shoes. Premium materials are embedded in the outsoles and insoles of boots, and their shoe wearing has optimum comfort, quality, and durability.
The composite toe cap is made up of firm rubber, so it kept my toe safe from bumps and collisions during work in endangered areas. Its composite cap meets ASTM F2413-18 standards – Which simply means that these boots have compact, compression, electrical and conductive resistance.

It not only has a composite safety, but a rubber outsole with textured overlay gives flexibility to my step moves and provides maximum slip-resistance, and is a dirt repellant.

It has 1000 LiteFire Insulation which is a breathable and waterproof membrane that keeps my feet dry while working on rainy days. Its insulating characteristic reflects body heat and keeps me warm and cozy in freezing weather.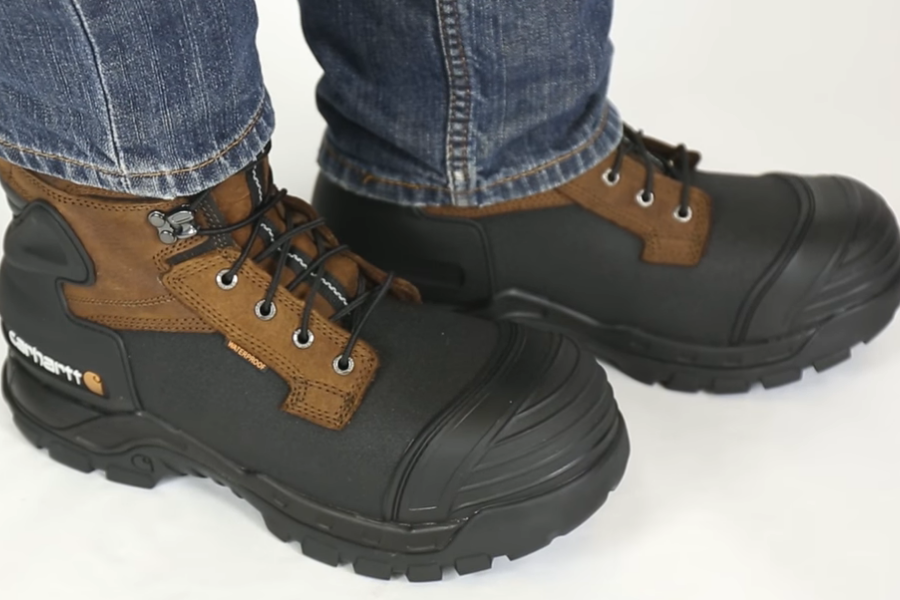 These boots gave strong protection while I worked at electrical hazards as they have an electrical resistance of 18,000 volts. Its shock absorbance capacity assisted in walking and running on uneven surfaces without any fatigue.

TPU heel guard feature offered me optimal strength on ankles and heels and protected me from any side impacts.

Tough coated leather makes the shoes more durable and sturdy for extremely harsh seasons. However, its toe cap is wide enough to give maximum room to feet and they are easily wearable with thick socks.
Carhartt boots are the best to perform in extreme environments, either in summer or winter. The foam cushion insole with TPU arch support is removable, but it gives immense comfort to the feet when I work for long hours. Its membrane makes the boots waterproof and keeps your feet dry in rain or on wet floors. Last but not least, rubber outsoles work as slip-resistant and dirt repellants.
Carhartt's 6″ Rugged Flex Waterproof Breathable Work Boots
Pros:
Ortholite sole reduces the tough muscles of the foot

Rubber flex construction for friction

Waterproof shoes for wet floors

Electrical resistant shoes

Sturdy eyelets made up of metal so you can lock your foot in
Cons:
Laces are kind of weak that do not hold a firm grip
Black Diamond manufactures protective shoes made with the most durable materials and components to serve the high demand of customers. Their rugged flex boot is one of the hot-selling articles for composite safety.
The boots with a built-in composite toe surpassed the ASTM F2413-18 standard, a rating to judge the safety protection against workplace hazards and risks.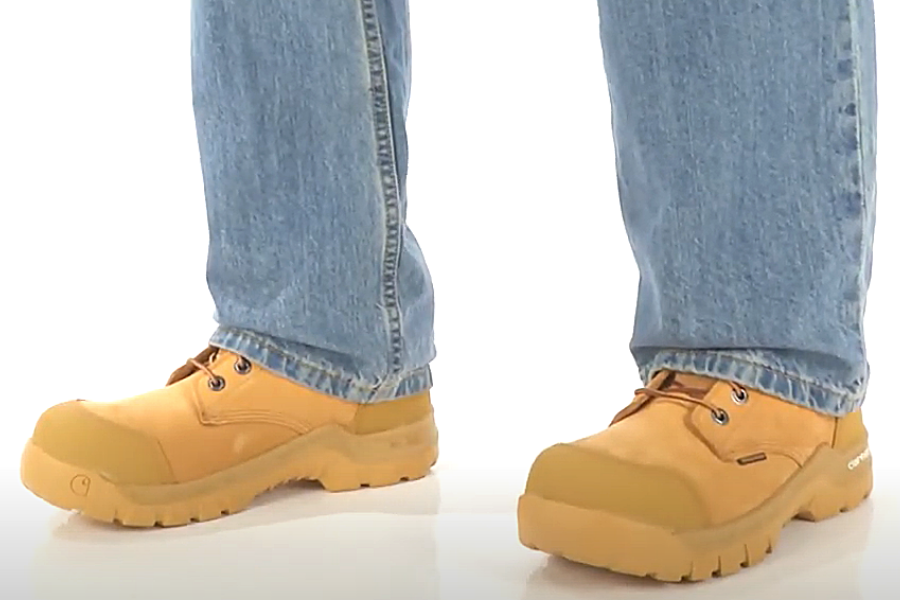 It has an EH-rated feature that can absorb an electrical shock of 18,000 volts.

Its insole has a dual-density OrthoLite layer, topped by a foam cushion that provides maximum comfort and helps minimize my foot fatigue and the toughness of muscles. Furthermore, the steel shanks with grooves on the outsole offer friction and stability against slip.

EVA midsole with PU Strobel pad provides layers of cushioned comfort when I stand on cemented or sandy floors and gives maximum shock absorption. Moreover, FastDry lining is embedded so that it sucks any sweat and makes the boot fresh from the bad smell.

I wore these shoes daily for 2 years, but they are still fresh and scratchless as their rubber sole increases its durability and rugged flex construction allows it to move and stretch throughout the day.

The shoes are constructed with a storm defender waterproof membrane that kept my feet protected from outside elements and kept my feet dry throughout the day. However, the waterproof membrane is breathable which allows air to move in.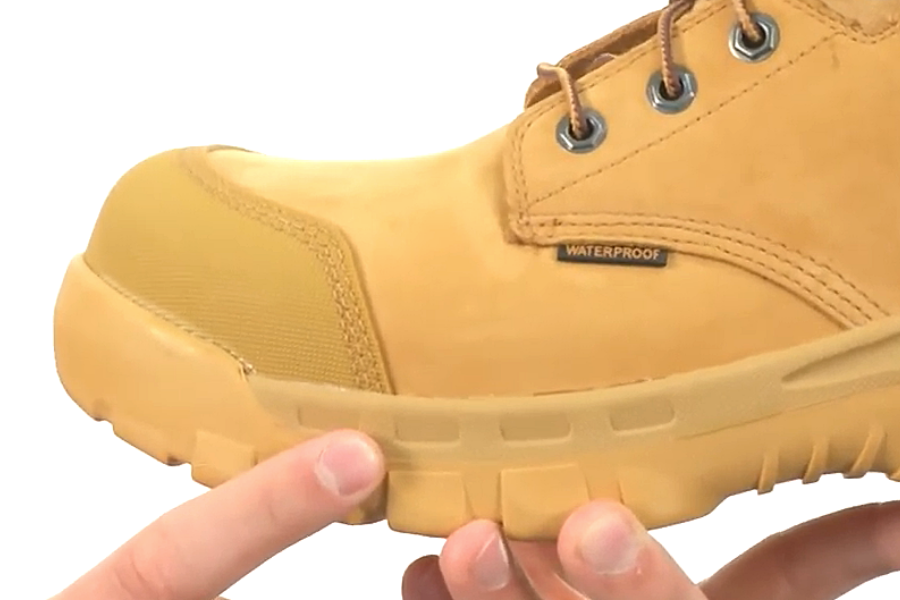 It is a soft yet sturdy design that I wear casually. Its material is 100% leather which makes it look more attractive. Its extra-wide toe makes my feet comfortable. Lots of padding on the collar gives you a cozy and comfortable feel at work.
These rugged flex shoes with a broad toe area make my feet restful throughout long working hours. EH features keep your feet safe from any electrical shocks. The fast-dry lining makes your feet sweat-free, and the breathable membrane allows air passage that is good for the feet and the shoes themselves. The best part is that the insole has an orthotic type, which allows your feet muscles to relax and reduce pain. So why not keep your feet energized with these boots?
KEEN Utility Cincinnati 6″ Waterproof Wedge Work Boot
Pros:
Removable PU insoles

Feel very lightweight

Sturdy enough for long-term use

Flat sole grips well

Enough toe room
Cons:
Light-colored midsole needs proper cleaning
KEEN always comes up with innovative styles that no one does. Their motto is to keep your feet warm, comfy, dry, protected and block them from slipping.
These boots have my back as I work at construction sites for long hours. The composite toe with carbon-fiber safety doesn't feel heavy like a steel toe. In addition, these boots encounter ASTM F2412 and F2413 standards, which decreases the severity of any injury.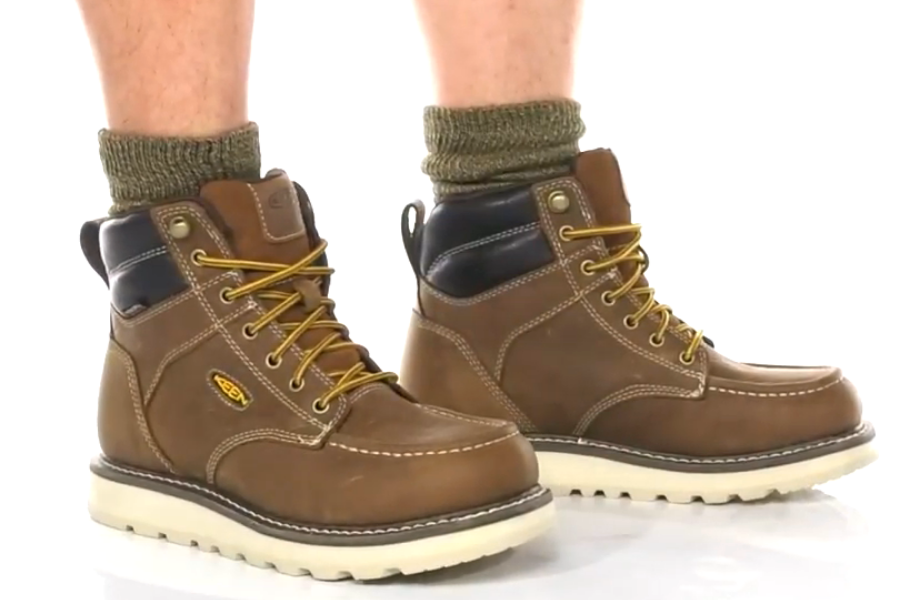 Orthotic insoles work well for curing biomechanical foot issues while walking, running, or standing. PU midsole is foam embedded that helps you stand on hard rough surfaces without any fear of falling.

These are electrical hazard EH-rated footwear, providing an ultimate protection source against any accidental encounter with electrical shock.

It is manufactured with natural, probiotic-based technology for cutting down the odor that my feet produce after constant sweating, especially in summer. Boots have a liner that is waterproof and lets the vapors out. I have worked on water surfaces, and I kid you not my feet were all dry.

It has a flat sole which is way more comfortable than heel-style boots. Moreover, the rubber outsole makes the boot oil and slip-resistant and provides abrasion.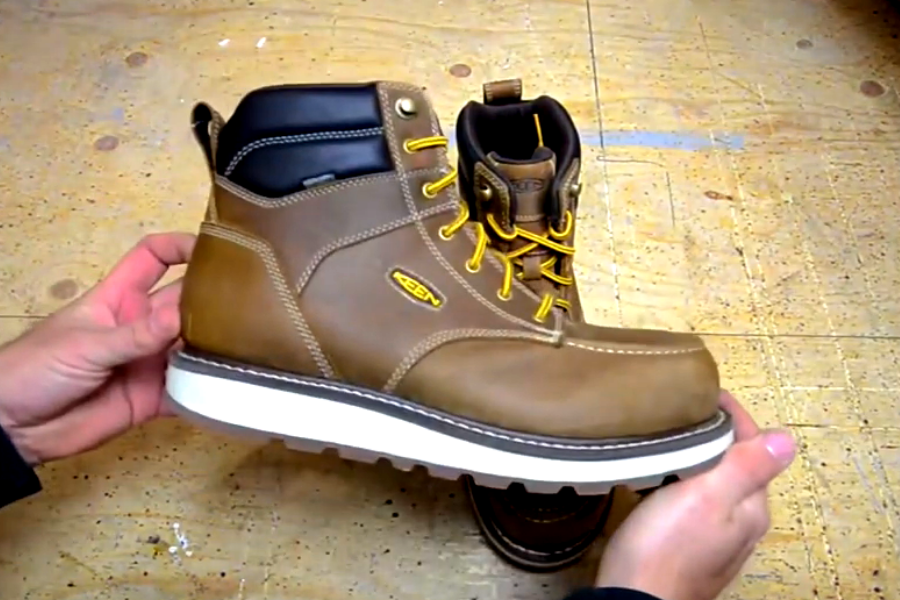 The boots are manufactured with pure leather, directly outsourced from tanneries approved by the Leather Working Group (LWG).
Related: How to Darken Leather Boots?
Conquer your working days with KEEN Wedge boot that is considerable for heavy-duty work in construction, load work, landscaping, and manufacturing. They go on and off smoothly without yanking the heel. Also, they mark up to the standards of ASTM F2412 and F2413. The orthotic insole cures any biomechanical issues and the midsole is cushioned with many layers that make your feet warm and comfortable all day. If you spend more time working on hard surfaces like concrete, choose this one.
NAT'S 1500 Insulated EVA Technology Lightweight Toe Boots
Pros:
Composite shell for double protection

TPR technology for a firm grip

Very good insulation

It comes with a heel puller

Lightweight boots
Cons:
NAT'S has been designing and manufacturing footwear since 1996. They have a diversity of good quality boots along with optimal performance. Its 1500 composite toe boot is one of their excellent quality shoe wear; let's look at what it offers!
The boot has a composite shell on the toe area that gave me utmost protection and saved my feet many times from jerks while working at my job.

It is made up of EVA technology which is great for farming, fishing, agriculture, or working in the freezer. Moreover, it is slip, oil, and dung resistant.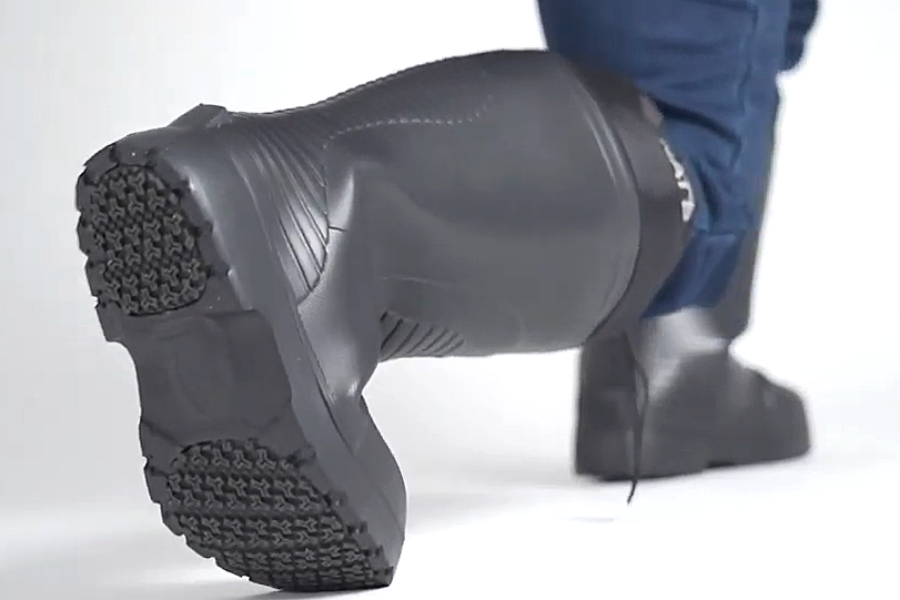 TPR is hooked under the outsole of high wear resistance for outstanding grip, especially useful when I did labor in oil industries and deep mud sites.

As it provides full insulation, my feet never get hot in summer and they work fine in extreme colds, like -30°C. So, I don't have to switch my shoes according to the weather changes.
Related: How to stop boots from rubbing calf?
My feet do not get exhausted as they are super lightweight yet muscular, so I walk and run long distances easily.

They are 100% waterproof and protect against cold and wetness. Also, its removable liners lock all the moisture that feet produce, and it does not create any foul smell.

A practical heel puller helped a lot in taking off my shoes smoothly.
The boots have a composite protective shell that makes them even more sturdy for long-term use. They are constructed with EVA technology that works well against oil or dung surfaces. TRP is present under the outsole for a great hold on rough surfaces. They are super lightweight than any other shoes and 100% waterproof as well. Maximize relaxation and comfort while performing everyday activities with these boots.
Wolverine Men's Legend 6 Inch Waterproof Comp Toe Work Boots
Pros:
H-plate suspension feature that helps move feet forward

Has excellent oil and heat resistance

Shock absorption is very good

Extra cushioning on the sole for smoothness

Big and athletic boots for those having heavy feet
Cons:
Wolverine has been a well-established American brand since the 1880s. They always come up with innovative designs and technology in each collection. Their 6″ boots are a hot seller article, so why not look at this recommendation?
The composite toe shell protects my feet against any encounter with objects and feels super light, unlike steel toes.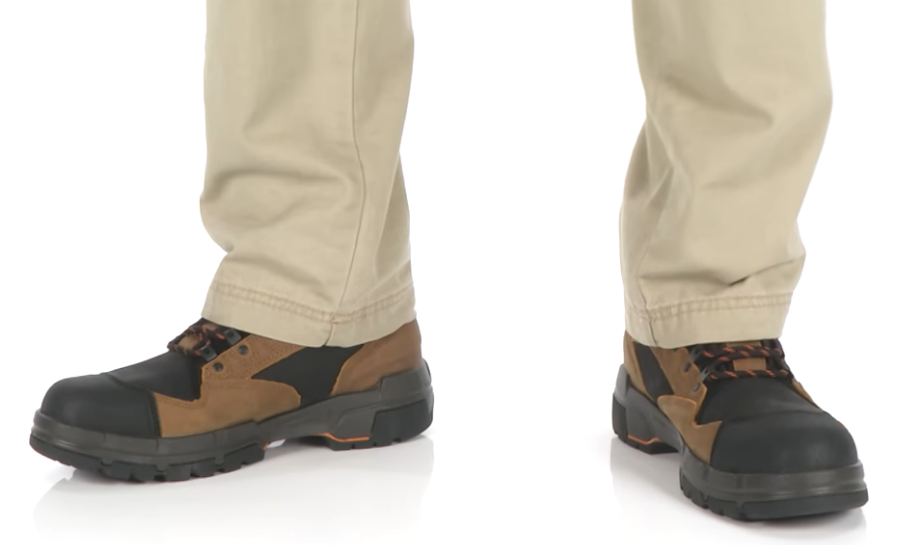 It comes with an H-plate suspension system that helps me move forward easily and I don't have to invest extra energy while walking or hiking.

They are made waterproof so you can work efficiently in rainy or wet areas. Moreover, they have good stability as they produce friction to oil, slip, and abrasion planes.

Also, they give you a strong grip on ice-covered roads. I have used these boots while removing ice from my garage driveway.

Overall, the boots are cushioned with extra soft layers and give the most comfort and coziness while working for many hours. Its heel has some more durable padding and provides flexibility in moving my feet.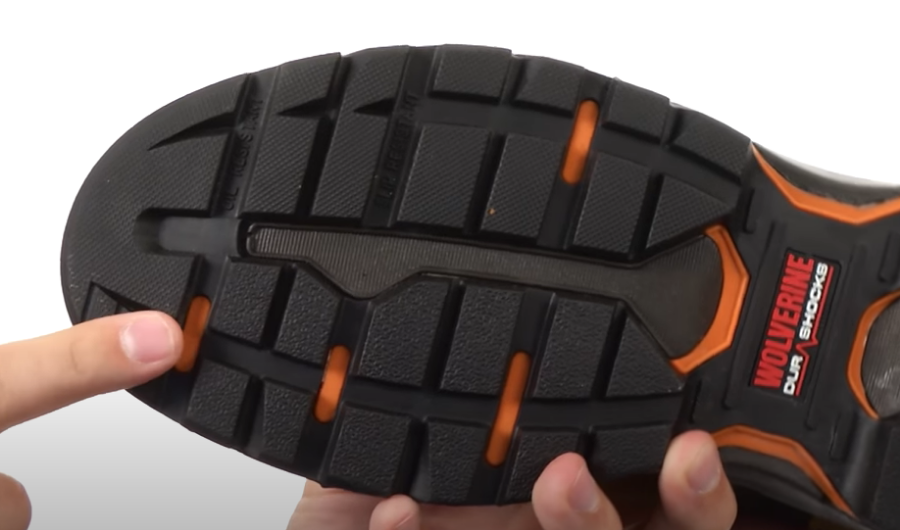 The boots are big and athletic to hold onto the grip on concrete surfaces. Its adaptive core stabilizes your feet on an uneven and rocky plane. And they are wide enough to fit in my broad feet so that my toes do not touch the shell tip.
Built-in H-plate suspension helps to divide the weight of your body equally on the shoe, and you can easily move around with these lightweight shoes. Waterproof shoes are slip, abrasion, oil, and heat resistant. You can work on any type of floor/surface with these comfortable shoes as they have an extra cushioning layer on the sole. Make your workday easy and productive with these heavy-duty boots.
Timberland PRO Men's Titan 6″ Composite Toe Work Boot
Pros:
Preventions my feet from moisture and odor

Lace-up closure for a tight fit

Padded collar for ankle support

Soft grain leather so you can even wear them as dress shoes

Nylon shank for structural support
Cons:
Flat laces are made up of some polymer, but they are pretty strong
Timberland blends traditional craftsmanship and innovation in its boots. Now, let's see how their boots look and what features they have!
Since the boot's outsole is made up of rubber, it produces friction to oil, slip, and abrasion surfaces. I work without any fear of falling at construction sites.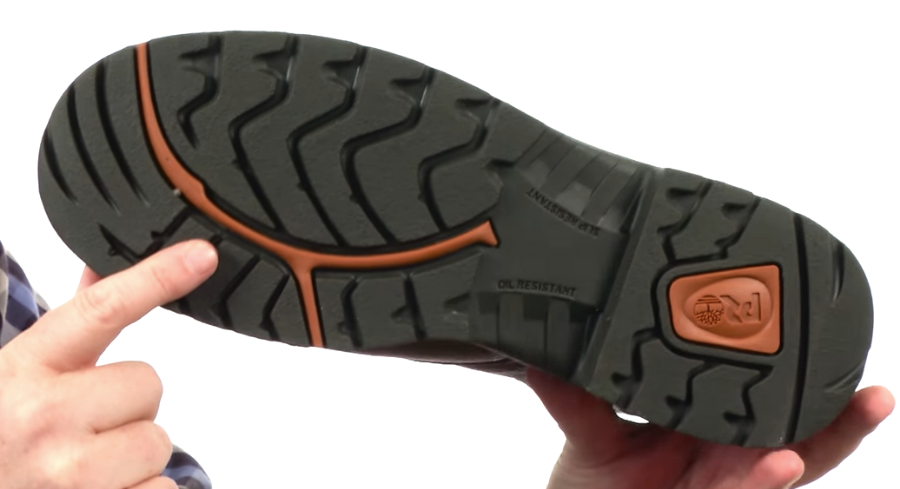 It absorbs sweat's moisture and works well for odor control as it is infused with a moisture channeling mesh lining with antimicrobial properties. On top of that, the insole is made up of polyurethane cushioning that has some insulation for air. It makes my feet cozy and pleasant throughout the day.

I am sure your foot must get twitched like mine while walking or working at the job; for this, these are among the best boots as their collar is well padded for better ankle support. Besides, it has a lace-up closure for a secure fit.

Once I worked at a water and puddle site wearing these boots and my feet were dry all the time so they are surely 100% waterproof. I have worn them in cold and hot atmosphere and surprisingly, it has kept my feet warm and dry in winters and somewhat cool in summers.

These shoes have given my feet out-of-the-box comfort as they are extraordinarily lightweight. It offers the feel of hiking or dress shoes because of its construction with soft full-grain leather.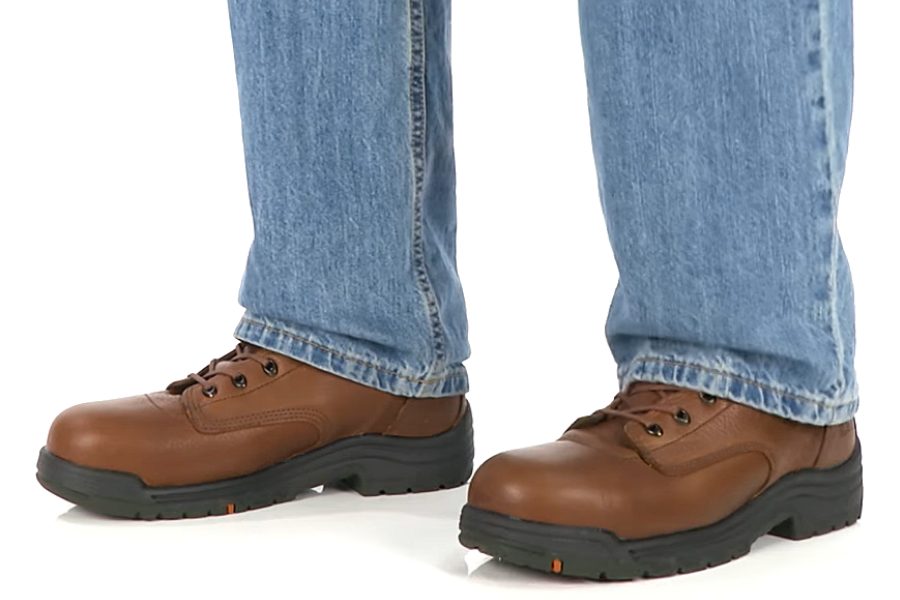 Manufacturers have put rich air inside its sole mixture so that you enjoy a real bouncy soul. Last but not least, a nylon diffuser shank is created to give overall structural support to the feet.
Present yourself with Timberland boots, as they have a very bouncy sole to provide your feet maximum protection and comfort. Its sole is oil and slip resistant, and works best if you wear them for fieldwork. They are super lightweight and well padded to give your ankles some aid.
ARIAT Men's Workhog Pull-On Work Boots
Pros:
Duratread outsoles for utmost wear resistance

Maximum comfort as the heel is made of three density layers of rubber

U-turn entry system for easy foot insertion

Heat, dirt, and oil resistant boots

Premium leather lasts longer
Cons:
They feel tight at the toe area as I have wide feet.
Ariat makes the most innovative shoes for laborers and welders with artistic and western flavors. Its WorkHog boots have a top-notch quality that provides comfort throughout working hours.
Duratread outsoles stand out for safety, long-lasting performance, and flexibility. Three different density layers of rubber are embedded in the heel sole, providing ultimate relaxation and comfort to my feet while working on hard surfaces. Its rubber sole gives a better grip and friction against any rock.
Related: How to clean cowboy boots
EVA midsole gives stability in distributing the weight of my feet and buffers each step while walking. Besides this, its ATS insole has both foam and gel that works pretty well to relieve the lower portion of the foot.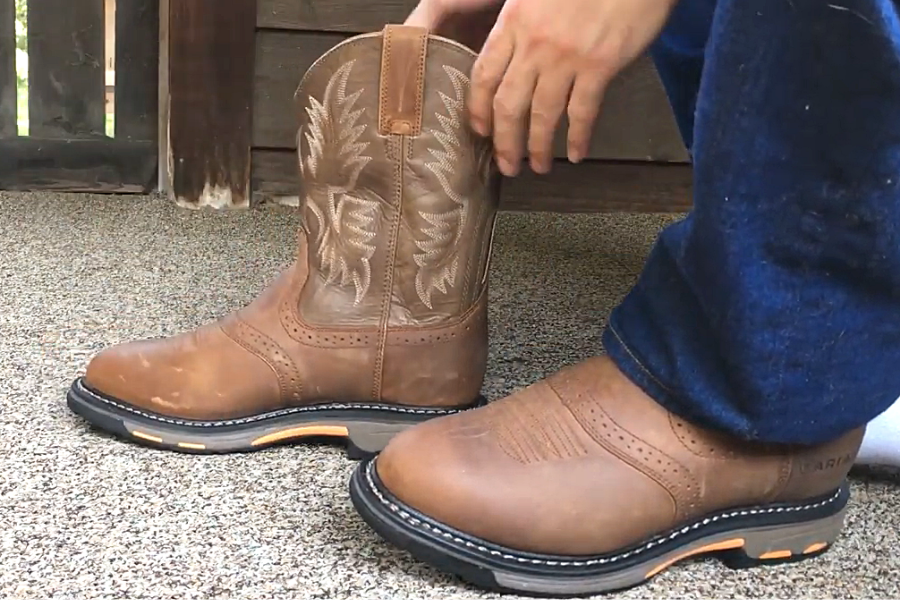 The boots are built with premium full-grain leather, and the inner portion is covered with cloth lining and has strong stitching. So, they will assist you for years on the work if you handle them with care.

The best thing I've found is the U-turn entry system at the back of the shaft, which has an elasticity that stretches out enough to get my feet smoothly into the boots.

It has good resistance to oil, heat, slip, dirt, and gravel surfaces. I once worked in the metal industry and came in contact with metal scraps and even climbed metal stairs, and its outsole didn't break down. Moreover, they are waterproof and do not let in any water sprinkles.
These boots live through the roughest conditions like uneven ground. With the waterproof construction, your feet stay dry, so you don't need to worry about them getting dirty and damp. Removing and wearing them is pretty easy with U-turn technology. Conquer your workday with these classically designed shoes!
Danner Men's Vicious 8 Inch NMT Work Boot
Pros:
Open hooks made up of metal so you can take on and off the shoes without any hindrance

Firm insole maintains the shape of feet

Offers oil and slip resistance

Heavy-duty laces for a strong grip

The midsole has extra cushioning to give comfort to feet
Cons:
Outsole doesn't feel much flexible
Danner constructs the most durable work boots. And their shoes are well-known for having the strongest outsoles in the shoe market.
Its muscular and rugged outsole is almost flat, usable on surfaces like tile, marble, rocky road, and wet/dry grass. The rigid outsole, made of rubber, has protected my feet from stabbing whenever I had to step on some slippery, greasy, wet, or oily surface.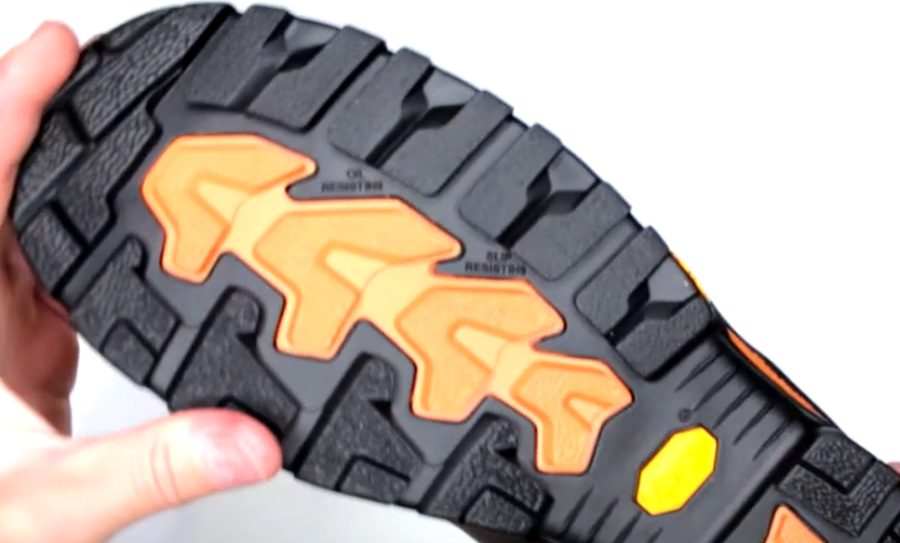 The removable insole is friendly shaped that gives immense support to my heels. And TPU shank in the midsole provides torsional strength and is well embedded with the cushioning. Therefore I feel so relaxed while working.

It has an ergonomic fit that settles down with the foot's shape and maintains its integrity.

These shoes are made of pure leather, which is waterproof and breathable. Built-in Goretex membrane on the inside keeps the moisture locked, still allowing my feet to breathe.

400 grams of ultra insulation retain me warm, so they are perfect for cold and wet environments but I have utilized them almost all the year and they worked well in every season.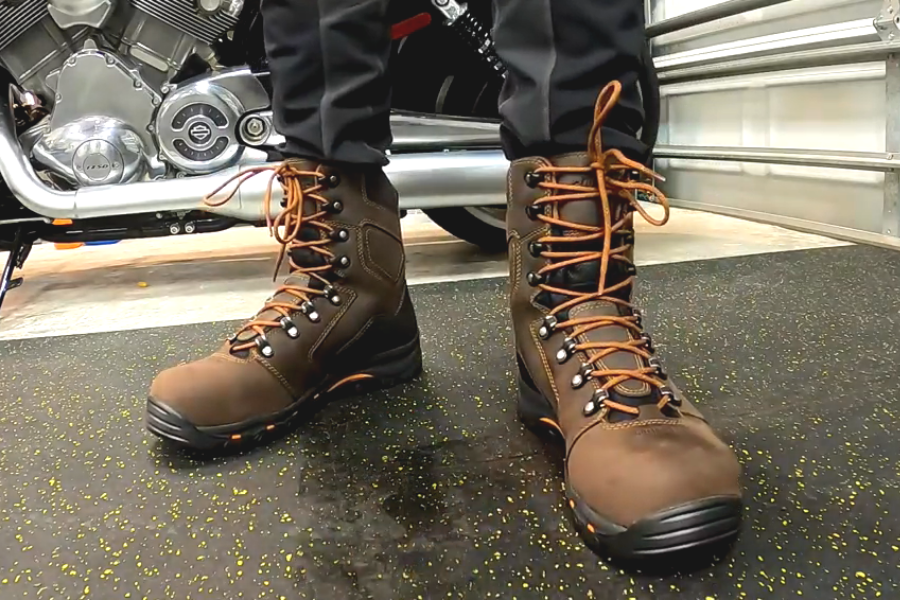 The boots with composite toes and sturdy design are relatively lightweight, contributing to safety and making them quite comfortable. Its total wear time is long enough that my feet do not get tired at my 8-10 hour job.
These Safety-rated composite boots have a firm outsole that will give a strong grip with each footstep. It helps in the friction against any smooth or rocky surface. It has a removable insole, while the midsole has thick cushioning. Moreover, its insulating element keeps my feet warm in winter or working in damp areas.
Conclusion:
Work boots are a basic need for every worker who works on construction sites. Getting the proper composite toe shoes will protect your feet from bumps and accidental contact with surrounding objects. Hence, it will increase your productivity while you work all day long. I have listed down the best possible options that will match your comfort and budget for sure!