11 Best 8 Inch Work Boots In 2023 [For Comfort & Protection]
One of the most famous work boot types out there is the 8-inch work boot. And there is a reason why; they offer a balance of protection and weight-bearing that conventional work boots do not really provide. Made to stand up to the rigors of daily wear, these boots also offer an excellent foundation for your feet. Additionally, they protect your feet and ankle from thorns and shrubs and from twisting and fracturing.
You will find these boots at lots of different price points due to different features – from low-cost versions that can be found at any big box store to high-quality brands that will last you years which is why selecting a work boot for yourself can be a tedious task. But worry not, I did the job and shared the results with you.
Best 8-Inch Work Boots Reviews
From comfort to traction to protection to look; I have tested every feature of 23 eight-inch work boots in many different environments after which I have designed a list of the best 8-inch work boots in order to make it easier for you to choose one for yourself.
Reebok Work Duty Rapid Response (RB RB8874) Tactical Boots
Our Rating: 9.9/10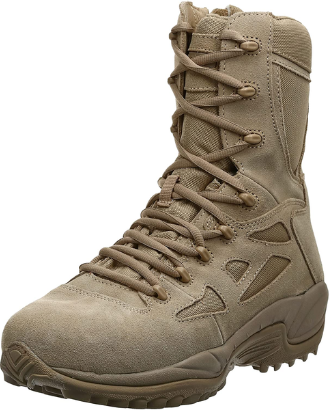 Weight of Pair: 3.56 Pounds
Sole Type: Rubber Sole
Toe Type: Composite Toe
Foot-bed Type: Foot Force® F2A Polyurethane
Pros:
The boots are lightweight.
Come with a Polyurethane Foot Force F2A footbed.
They are very comfortable.
Cons:
The laces do not seem to last that long.
This is not the first time I have reviewed a Reebok work boot, and it probably will not be the last time as Reebok produces great work boots. The Reebok Tactical boots were a great addition to my wardrobe. They are quite versatile and can be worn with any type of clothing. It is available in many different shades of tan and also available in black.
The main feature of this work boot is its 8-inch rugged leather upper, which protects feet from bruises & cuts and the composite toe protection protects feet from blunt forces at work. The composite toe is up to the ASTM F2413 standards. Not just that, it is also water-resistant. They fit nicely on the feet with numerous adjustments to accommodate the various foot shapes and sizes.
These boots offered me great comfort and support. It features a Polyurethane Foot Force F2A footbed that cushions strides when I walk and absorbs shocks when I bounce around. It also features a composite shank. The rubber outsole and composite shank provide shock absorption for active individuals who want to maintain their posture during rigorous periods of training or workout. It is ideal for all activities requiring quick movements in all directions without undue fatigue due to muscle cramps or tissue injuries.
This work boot has a rubber outsole with lugs that offers superior traction in wet conditions such as mud or snow and keeps the foot grounded in turns or while walking sideways. The outsole is also oil and slip-resistant. The sole provides excellent shock absorption on hard surfaces. Other features include a padded collar and a side zipper for easy on/off.
Danner Men's Vicious 8 Inch NMT Work Boot
Our Rating: 9.9/10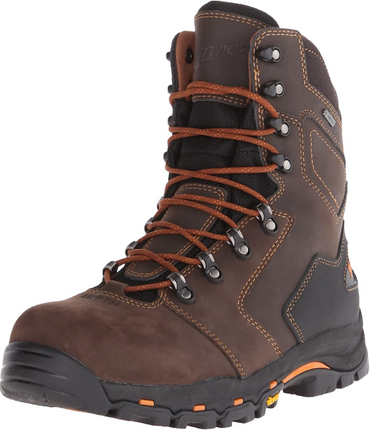 Weight of Pair: 1.8 Pounds
Sole Type: Rubber Sole
Toe Type: Composite Toe
Foot-bed Type: Danner Cushioned Insole
I found these boots by Danner very, very comfortable. They are reasonably lightweight for a work boot that is 100 percent leather, eight inches in length, and with a safety toe. The innersole is firm and offers good feel support, and the outer sole is somewhat flexible, adding to the comfort. The tongue is also cushioned. Proofing-wise, the boots shine, providing higher quality waterproofing. The leather body makes it durable and ensures oil and slip resistance. On top of all that, it is made beautiful and looks incredibly chic.
It is recommended to buy half a size extra as they run a little bit short, and the composite toe makes it hard to wear. We have already reviewed these boots in detail so you can find a lot more about them here.
Irish Setter Mesabi 8″ Waterproof Steel-Toe Logger Boots
Our Rating: 9.8/10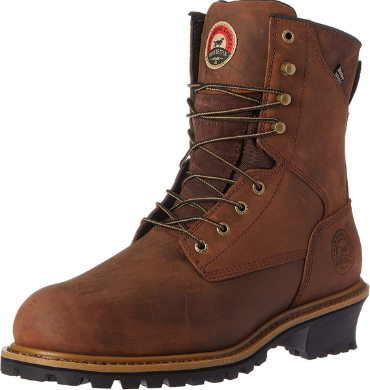 Weight of Pair: 4 Pounds
Sole Type: Rubber Sole
Toe Type: Steel Toe
Foot-bed Type: Removable EVA Insole
Irish Setter's Mesabi 8″ Work Boots are made with full-grain leather and ultra-dry water protection technology, making them one hundred percent waterproof. The outsole is incredibly rugged, making them oil-resistant and heat resistant. It can stand up to 475 degrees Fahrenheit, which is immense. The removable EVA footbed provides ultimate comfort. There are 600 grams of 3m Thinsulate insulation inside, ensuring warmth.
I found them very sturdy and they won't wear down quickly. To see our detailed review of Mesabi 8″ see this link.
Thorogood 1957 Series 8" Waterproof Steel Toe Work Boots
Pros:
Made in the USA.
Perfectly waterproof.
The insole cradles the feet nicely.
Stylish Moc Toe.
Cons:
It is on the pricier side.
I have been waiting forever for such a boot to exist in the Thorogood line. I bought this pair of work boots specifically for outdoor jobs.
They have lovely soft insoles. The sole is super doughy and comfortable, it provided great cushioning and shock absorbance when I hopped out of my truck on the cement floor.
They are made with super-thin leather. I love the color of the leather used. To my astonishment, it is pretty lightweight. They did an excellent job with laces. They are much better than their previous shoes and have the perfect length, neither too long nor too short. The sizing fits fine and is accurate to its number.
The Maxwear traction outsole is like an adhesive to the floor when it comes to grip. It ensures smooth traction.
The boots are made waterproof with the help of extreme waterproof liners. I can not emphasize how dry they have kept my feet while working in water without even using Sno Seal. Additionally, the boots have a breathable lining that prevents smelly and sweaty feet when I worked in the summer.
Carhartt Men's Ruggedflex Safety Toe Work Boot
Our Rating: 9.7/10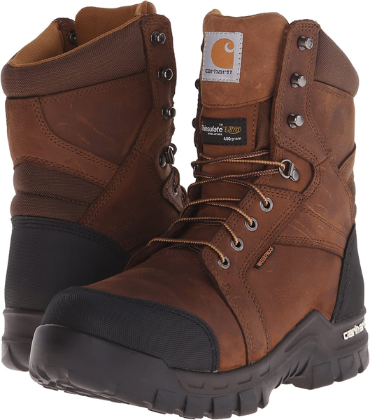 Weight of Pair: 1.95 Pounds
Sole Type: Rubber Sole
Toe Type: Composite Toe
Foot-bed Type: Polyurethane Cushioned
Now, these are one of my favorite work boots that I wear regularly. They have exceptional built quality. They are waterproof and provide extreme safety to the feet.
With the protection, of course, comes the weight but they are somehow lightweight due to composite toes. It has a good-to-feel jelly-like insole that grips the foot perfectly and did not let my foot slide back and forth.
However, the bottom sole is not flexible, making it hard to run and putting a lot of stress on the ankle and the knees. So if your job requires a lot of running, they are not for you. Still curious? Read our detailed review of Carhartt's Ruggedflex here.
WOLVERINE Men's Hellcat Ultraspring 8″ Boot
Pros:
Full-grain leather upper looks great.
Nylon shank reduces foot fatigue.
A breathable upper allows airflow.
Cons:
The boots do not have any toe protection.
There is a saying that sometimes, you can judge a book by its cover. The aesthetic appeal of a boot is what first makes most people want to buy it. But at the end of the day, it is their comfort, durability, and that classic styling that make the people return customers. That is why there is so much hype about this Wolverine Men's Hellcat Ultraspring 8-inch Boot.
The boots are made from durable rubber outsole for durability and traction as well as lightweight for superior performance on any surface. The outsole is slip and oil-resistant, so it is best for walking on icy surfaces.
The Ortholite insole inside the boot creates a super soft, cushioned feel. The UltraSpring high rebound ETPU midsole has a nylon shank that energizes the walk and prevents foot fatigue. It completely changed my walking experience.
The upper is designed with full-grain leather and even though there is no mention of insulation still they provided immunity against cold, all the while looking really chic. Over and above that, it is also waterproof making it great for working in a wet environment. The tobacco brown hue of the boot enhances the overall look.
Unfortunately, these boots do not come with any toe protection, but they are still great for work where you do not need to deal with heavy weights. I personally wore them when working in the garage. They are also ideal for everyday casual wear and other short-term activities such as camping, hiking, and boating.
Timberland PRO 26011 Direct Attach 8″ Soft-Toe Work Boots
Pros:
Excellent Waterproofing.
ProTech cushioning system.
400 grams of Thinsulate insulation.
Heat, Slip, Oil, and Abrasion resistant outsole.
Cons:
If you are searching for work boots that can withstand long hours on your feet, then you should consider the Timberland PRO Men's 26011 Direct Attach 8″ Soft-Toe. These boots are made for multi-tasking. You can wear them for long hours at your job and then put them on again when you go on a hike with your friends. The boots are available in many different colors, and it is an excellent choice for workers who need good, comfortable boots that will last a long time.
In addition, Timberland's Attach 8″ boots are built for maximum stability and traction. They have rubber soles with a heel-retention system that ensures the heel does not slide forward when walking on rough or slippery surfaces, which can lead to losing balance. The soles on these boots have deep lugs for added traction, which increases the durability and performance of these boots, and they have a full foot strike surface that is made from rubber that is Heat, Slip, Oil, and Abrasion Resistant.
I especially loved the ProTech cushioning system that provides cushioning, shock absorption and support, and comfort to feet. The Ortholite footbed is Anatomically-contoured, holding the foot for maximum comfort and support.
Related: Can You Bleach Leather Shoes & Boots? If Yes, How To?
The double-stitched, extra padded collar adds comfort to these boots and helps reduce fatigue during long work hours. Overall this work boot provides a comfortable fit.
The upper is made from premium leather with a smooth finish, which results in maximum protection for the feet and looks great. They have a waterproof construction to help keep the feet dry when I was working out in inclement weather or when I was working at a job site where water spills are inevitable.
These boots are best for winter as they have 400 grams of Thinsulate insulation, providing the ultimate protection against cold.
Cat Footwear Men's Alaska 2.0 8″ Wp Tx St Construction Boot
Pros:
Anatomically contoured foot bed provided great cushioning.
Padded collar and tongue provide a comfortable walking experience.
Thinsulate insulation lining provides protection against cold.
Cons:
Cat has been a name of trust since the beginning and it is one of the oldest shoe manufacturers in the market. So, it is not surprising to see a caterpillar product in our list of best 8-inch work boots.
They are durable, waterproof work boots that can withstand harsh conditions. I liked the Flex screws that are built into the forefoot allowing the boot to flex naturally with the foot.
These boots feature CAT's own Intelli-Tread rubber outsoles, which provided me superior traction on wet and dry surfaces. It also has Thinsulate insulation which keeps my feet warm in cold weather.
Toe and heel have abrasion-resistant material, which I really liked. The sole is puncture-resistant, which provides the ultimate protection and satisfaction.
It is ideal for a variety of tough jobs. Its platform is perfect for lateral support, and maximum torsional rigidity. And with a waterproof and breathable membrane, these work boots kept my feet dry. The boots also have a padded collar and tongue which added comfort and durability to the overall use of the work boots.
The footbed is anatomically contoured, which provides extreme comfort. The genius heel clef design comes in very handy and absorbs the initial energy as I walk throughout the day. With a Goodyear Welt construction and leather upper, these boots are tough to last long.
Chippewa Men's 8″ Insulated Steel Toe 73050 Logger Boot
Pros:
400 grams of Insulation.
Excellent Waterproofing.
It has an extra-durable midsole.
The Vibram outsole is super comfortable to walk on.
Cons:
Ladder locking heel makes a sound when you walk.
The Chippewa 8″ Logger Boot is known for being very heavy duty. The Mapel tail braille lining on the inside of the boot feels great against the skin. The removable insole has plenty of cushioning to it.
The bay apache leather on the silhouette with the traditional lace-up closure with a corded lace style makes it just what I want for a stylish work look. This boot is made from premium waterproof leather and is both waterproof and insulated, making it an excellent choice for those who work in cold, wet environments. The boot has 400 grams of Thinsulate ultra insulation, making the cold almost nonexistent.
The steel toe provides protection against impact and compression, while the Electrical Hazard rating gives me peace of mind that I am safe when working near electricity.
This boot features a Vibram® outsole with lugs that provide superior traction on any surface. It allows me to easily work on the roof of my house to fix the rain drain.
It is a rugged, eight-inch work boot ideal for the man who spends his days outdoors. The best thing about the pair is that if you have wide feet like me, it won't sink them at all because they have made it with triple e width. The pull tab in the back makes it easy to put it on and off.
KEEN Utility Men's Coburg 8″ Steel Toe Waterproof Work Shoe
Pros:
Steel toe provides great protection against impact forces.
It has a great waterproof membrane.
Breathable layer prevents sweaty feet.
Cons:
The insoles wore out after a year.
The boots are built explicitly for enduring challenging tasks. It's a boot for people who want both lightweight but sturdy pairs. The boots add to your comfort and do not hinder you in any way when you are doing your job.
Coburg 8″ are rugged work boots that provide all-day comfort and protection. The full-grain leather and textile upper are tough and abrasion-resistant which increased the durability and provided me ease of mind to jump through shrubs. The key tech full-length TPU torsional plate offered stability when I hiked mountains. The slim profile gave a classy look to my work attire.
The Coburg is built with KEEN's signature waterproof membrane and breathable lining, making it ideal for me to wear them year-round. The clean sport nXT technology works wonderfully and has helped a lot in keeping the foot odor away for the longest.
It also features KEEN's patented asymmetrical steel toes, which provide superior protection against compression and crushing injuries. The connect fit heel capture system locks the foot into the boot while still allowing toe movement.
With its durable lugged outsole, the Coburg has outdone itself, its rubber outsole provides traction and safety on slippery surfaces.
Irish Setter Men's Wingshooter Steel Toe 8″ Work Boot
Our Rating: 9.4/10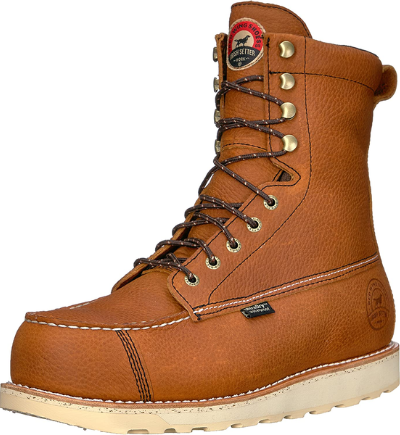 Weight of Pair: 3.9 Pounds
Sole Type: Rubber Sole
Toe Type: Composite Toe
Foot-bed Type: Soft Cushioning EVA
Pros:
Very Lightweight.
They are incredibly comfortable.
They have stylish decorative moc stitching.
Heat resistant and waterproof boots perfect for all weather.
Cons:
The leather upper requires care.
Seeing yet another Irish Setter boot on the list is not surprising since it is a renowned footwear brand. This is a chic-looking pair with a plus of work boot features. It feels relatively lighter in weight because of a different wedge sole.
These are one of the most comfortable boots I have ever worn in my whole life. They are phenomenal! The inner cushioning holds my feet firmly, keeping them safe and comfy.
The low-profile rubber TBA white outsole has a less aggressive tread. It helps prevent mud and dirt from getting clogged up. Its traction tread wedge is pretty cool, which provides excess stability.
It has full grain leather which has a good texture. The bottom sole is attached to the upper of the boot utilizing a good-wear leather construction method. This is a very durable construction and is also renewable.
Read Also: Mink Oil vs Leather Conditioner
They are waterproof precisely as they claim and are heat-resistant. The non-metallic safety toe meets ASTM F2413-11, I/75C/75 standards.
However, one thing I found inside the boots is there is a line inside of a boot that makes no sense, and it keeps wearing since the time you start wearing the pair. I'm not sure what that is for.
Final Verdict
All the boots are good in their own ways. It all depends on your requirements and your preferences. I have loved using Danner's Vicious boot. It is just perfect! The boot is a piece of artwork. It has all the features one wants from a work boot. It is relatively weighted, has a decent sole, and is true to the company's claims.