Best Lightweight Work Boots 2023 [Comfortable & Durable]
A good pair of work boots is a must-have for every man. Choosing the right boot can be challenging, as different types of work boots correspond with different tasks and needs. But one thing that I've always found to be an integral part of my boots is their weight. The weight of the boot can be the difference between a painful workday and a relaxed workday.
Usually, Work Boots are very bulky and heavy because they have to save our feet from accidents. So finding a pair of lightweight work boots which doesn't compromise on safety was like finding a needle in a haystack. So I had to buy and test many many brands and models and I came up with this list of 9 Best Lightweight Work Boots.
Reebok Sublite Cushion Safety Toe Athletic Work Shoe
Our Rating: 9.9/10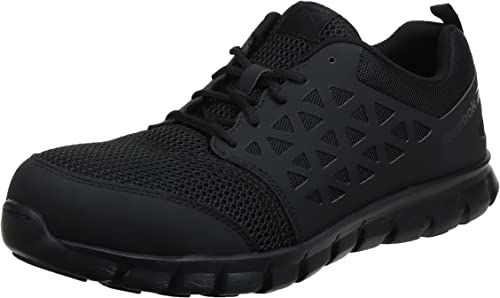 Weight of Pair: 1.54 Pounds
Sole Type: Rubber Sole
Toe Type: Composite Toe
Foot-bed Type: MemoryTech Massage Footbed
Pros:
Very lightweight boots with composite toes.
Look good.
Breathability is excellent because of the mesh.
Cons:
First on the list is Reebok, which is one of the most trusted boot brands out there. It was founded in 1958 by Joseph William Foster. Since then, it has produced boots for many different activities such as playing football, basketball, running, HIIT workouts, CrossFit training sessions, and work.
My experience with Reebok Sublite Cushion Boots has been great. These work boots are very lightweight weighing only 0.77 pounds per boot, making it easier for me to walk around in them all day.
Boots have MemoryTech Massage footbeds; memory foam that takes the shape of the foot and provides excellent cushioning when you jump around on hard surfaces.
These work boots have a mesh upper which allows breathability and prevents sweating of the feet. It is great for working in hot environments.
Its sublite foam midsole offered great support, and the rubber outsole with full flex grooves offered excellent traction when I walked on the snowy pavement.
They have composite toes which also makes them lightweight, and not only that, it provides excellent impact protection against sharp objects and protects against electric shocks. The composite toes meet the ASTM F2413 standard. It is ideal for someone who is accident-prone like me. It does not trigger the alarms whenever I go through metal detectors which is really great.
Timberland PRO Men's 6″ Pit Boss Steel Toe Industrial Work Boot
Our Rating: 9.8/10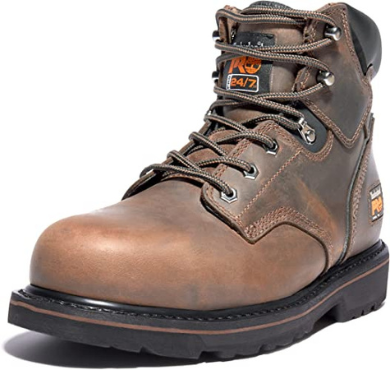 Weight of Pair: 3 Pounds
Sole Type: Rubber Sole
Toe Type: Steel Toe
Foot-bed Type: Open-Cell Polyurethane
Pros:
They are very durable.
Have antimicrobial treatment, which protects my feet.
The steel toe is very roomy.
The full-grain leather upper looks chic.
Cons:
Electrical Hazard Protection is not very good.
Timberland is a company known for setting industry standards with its outstanding craftsmanship and durable products. It has been in the boot manufacturing industry since 1973 and since then has been one of the best in the industry. Timberland has produced many different work boots, but Timberland PRO Pit Boss Steel Toe Work Boots seemed to be much lighter than others.
Related: How To Clean & Restore Timberland Boots Color?
With steel toes, these work boots weigh around 1.5 pounds each, which is really great. They were easy to walk around and stand in. They have a padded top collar that protects you from chafing the upper back of your foot and provides comfort.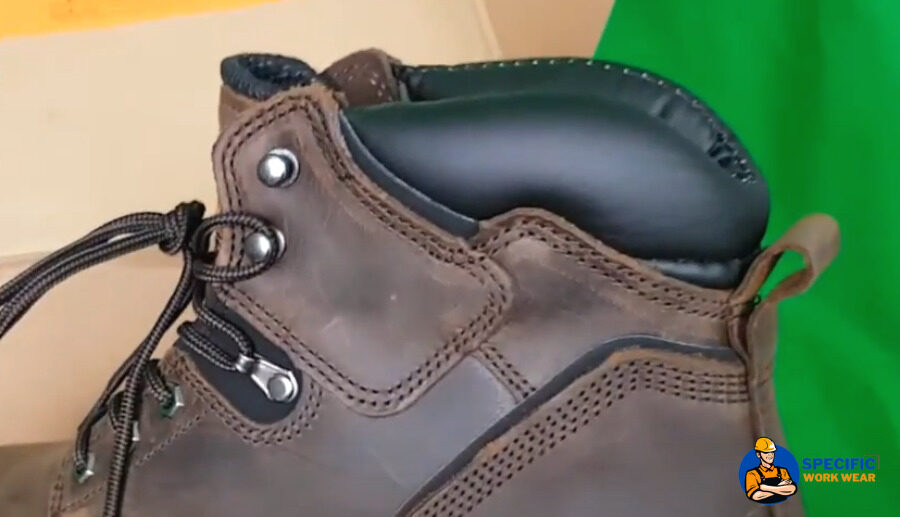 These boots have anti-fatigue insole technology, which provides spring-like support and even distribution of the force. They offered support to my tired feet by helping to restore lost energy, giving me the power and endurance necessary to get my job done. Additionally, these are designed to absorb shock making my workday almost effortless.
The boots have a slip-resistant rubber outsole with lugs designed into it, which provide substantial grip while walking on slippery surfaces. The outsole is oil and abrasion-resistant and It helped me prevent many slips in the garage.
The Pit Boss boots are constructed with full-grain leather upper hand-oiled to ensure that they last the test of time. Moreover, I think the leather upper looks excellent and chic.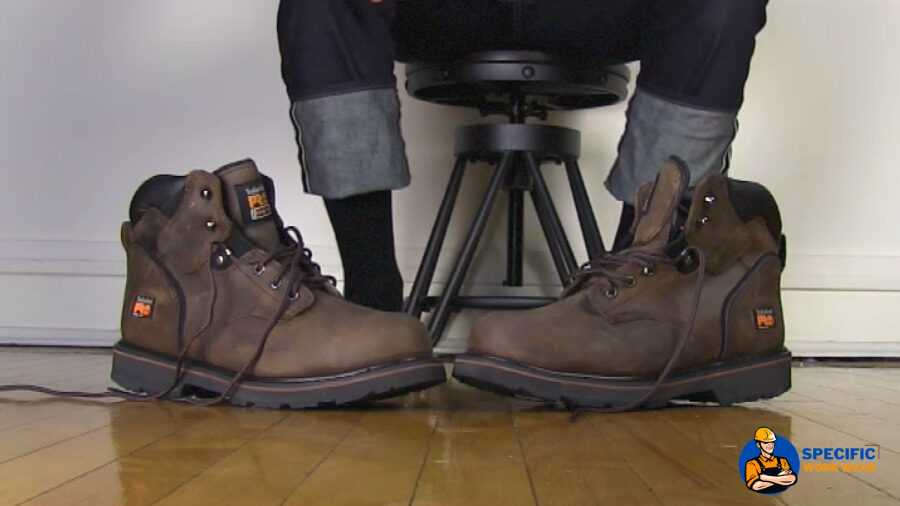 They have steel toes, which are up to all the ANSI standards. Steel toe provides exceptional impact protection, which keeps my feet safe whenever something is dropped on them. It also is very roomy, allowing me to wiggle my toes around, unlike many other toe protections.
These work boots are water-resistant but not waterproof, which means that when I stepped in a small ankle-deep puddle, they kept my feet dry, but when I stood in the puddle for a long, the water would soak through. They also have moisture-wicking lining with antimicrobial treatment, which prevents my feet from sweating and getting smelly.
Irish Setter Men's Ely 83608 6″ Steel Toe Work Boot
Pros:
They feature steel toe protection.
Boots have PU V Grip outsoles providing extra traction.
They meet the ASTM F2413-11, M/I/75/C/75 standards.
Cons:
Water resistant but not waterproof.
Another Irish Setter's boot made it to the list, this time Ely 83608 6″ Steel Toe Work Boot. Irish Setters are well-known for their durability and comfort, and I think it is evidence that there are multiple Irish Setter work boots on our list of the best lightweight work boots.
Boots are made with genuine leather, giving them lasting durability. It also adds style to the overall looks of the work boots. And their lightweight design makes them very easy for me to wear for extended periods. Each boot weighs 1.1 pounds only.
The boots offer all-day comfort, durability, and protection for years. They have plenty of cushioning, shock absorption, and cushioned PU footbeds that mold to your feet.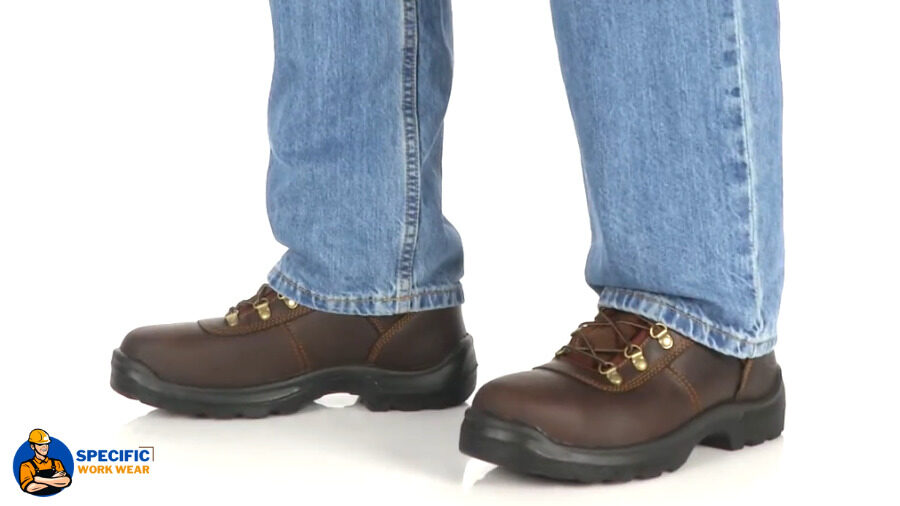 These boots feature PU V Grip outsoles that offer added traction and slip resistance that keeps me steady while on slippery and rocky terrain.
These work boots by Irish Setter also contain steel toe protection which fulfills the ASTM F2413-11, M/I/75/C/75 standards for impact protection, and it also protects against electrical hazards.
Irish Setter Men's 6″ 83605 Work Boot
Pros:
They look stylish.
Very lightweight.
The wedge outsole provides excellent support.
The outsole is heat resistant up to 475 Fahrenheit.
Cons:
Safety toe protection is not there.
Irish Setters is a widely recognized brand; the quality is exceptional, and their customer service reflects that. It is mainly famous for its boots, characterized by their dainty leather and durability.
I found the Irish Setter 83605 Work Boots pretty comfortable. Each boot only weighs 1.5 pounds, and it provided excellent support and adequate shock absorbance for me to work all day in them without any pain or fatigue in the foot.
The Irish Setter never compromises on looks. These work boots have a leather upper, and The upper is a high-quality pull-up leather with a rich look and feels, with an oiled waxy finish to help repel water.
Boots have rubber outsoles with traction treads that supplied impressive traction when I walked on slanted slopes. And the wedge design sole provides the right amount of comfort, stability, and traction.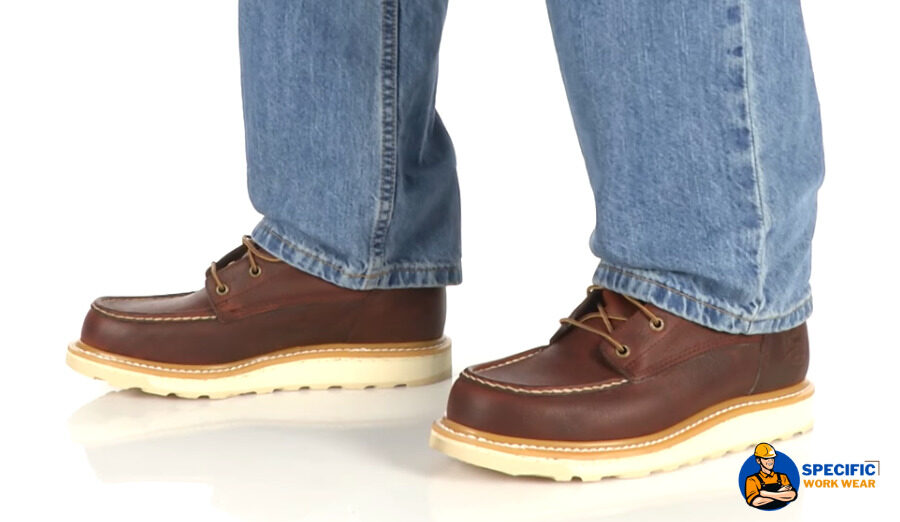 Additionally, these boots are also heat resistant and can provide protection against heat up to 475 Fahrenheit; they helped me in hot environments.
These work boots do not provide any toe protection; they come with a soft toe. However, they meet the ASTM F2413-11 Safety Standards and protect against electric hazards.
KEEN Utility Men's Atlanta Cool Low Steel Toe Work Shoe
Pros:
They are very lightweight.
The grip is amazing on slippery floors.
Consist of a torsional support shank.
Mesh lining increases breathability.
Cons:
KEEN Utility is dedicated to producing quality, durability, and versatile products that can be worn anywhere – from the urban jungle to the most remote regions on Earth. Their products are for anyone who spends as much time on land as they do at sea because they know how difficult it can be when the gear isn't designed with versatility in mind.
KEEN Utility's Atlanta Cool Work boots are one of the most lightweight work boots I have ever worn; even with a steel toe, they are lighter than most other work boots. A single boot only weighs 1.3 pounds.
I am a big guy, and it is not always that I find boots that are this comfortable. They are one of the most comfortable work boots I have worn. Each boot has an Ethylene Vinyl Acetate insole, providing matchless support and shock absorbance. They also comprise a torsional support shank which prevents my feet from tiring and makes walking easy.
The Upper has a mesh lining that allows air to flow through and increases breathability; it keeps my feet sweat-free in warm environments. They also have reflective webbing as an extra safety feature when working or walking in the dark.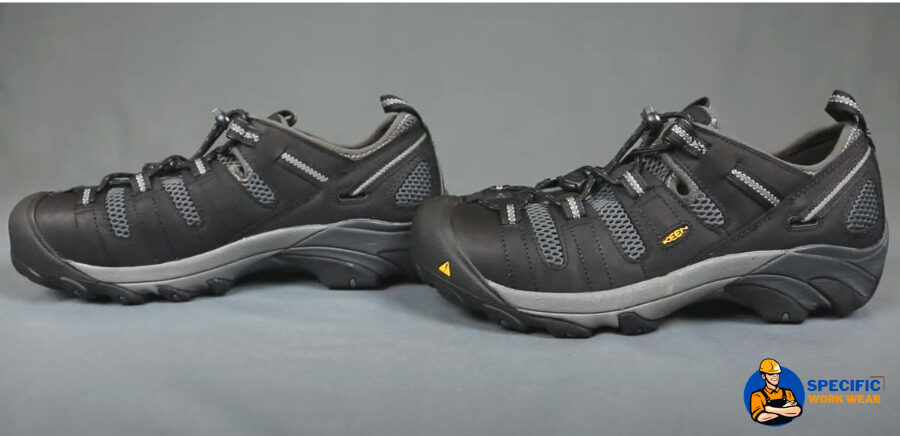 Boots meet the ASTM F2412-11 and F2413-11 I/75 C/75 EH standards and provide excellent impact protection and also protect against electric shocks.
If you work for an electric utility and want work boots that are lighter, more relaxed, and comfortable to wear and still meet safety standards, these boots check all the boxes.
NAT'S 1500 Waterproof Composite Toe Boots for Men
Our Rating: 9.6/10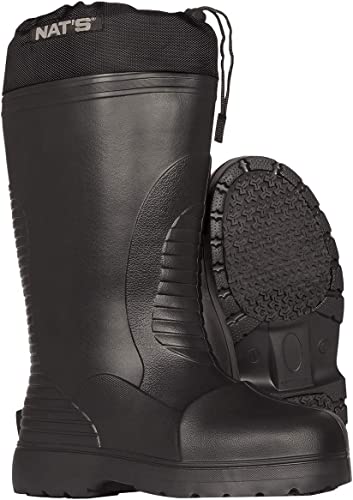 Weight of Pair: 2.4 Pounds
Sole Type: Thermoplastic Elastomers
Toe Type: Composite Toe
Foot-bed Type: EVA
NAT'S 1500 Waterproof Composite Toe Boots are great boots that withstand even the most severe conditions. These boots are very lightweight, comfortable, and waterproof. They are my go-to choice in winter as they contain insulation that can protect against temperatures as low as -22 Fahrenheit. These boots are also oil and manure-resistant. I have already posted the review for these work boots; click here for a more detailed review.
WOLVERINE Men's Overpass 6″ Composite-Toe Boot
Our Rating: 9.5/10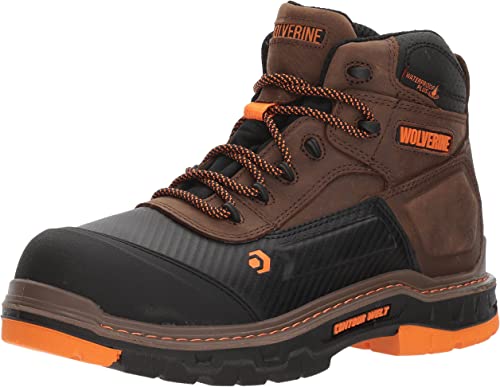 Weight of Pair: 3 Pounds
Sole Type: Rubber Sole
Toe Type: Composite Toe
Foot-bed Type: Ortholite Cushioned
The Wolverine Men's 6″ Overpass Boots are an excellent option for anyone who wants rugged, durable work boots with the performance you need to conquer tough jobs. These waterproof and breathable boots won't let moisture in, so your feet will stay dry and comfortable on the job. The specially designed composite shank helps provide extra support so you can work hard all day long. They also have abrasion-resistant leather with an oil-resistant coating for enhanced protection against scuffs and scrapes. Other features include durable rubber lug outsoles and steel toes for added safety on the job.
You can read a more detailed review of these work boots here.
Skechers Men's Relment-Pelmo Hiking Boot
Our Rating: 9.5/10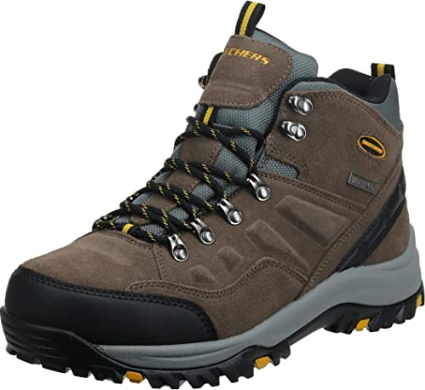 Weight of Pair: 3 Pounds
Sole Type: Synthetic Sole
Toe Type: Soft Toe
Foot-bed Type: Memory Foam
Pros:
They are water-resistant.
The boots have good ventilation.
Memory foam takes the shape of the foot.
Cons:
They do not have any toe protection.
The boots don't meet ASTM and ANSI standards.
Skechers is known for manufacturing products that provide an excellent fit and long-lasting durability for long-distance adventures. They offer styles for many different activities such as hiking, biking, running, or playing sports.
I chose these boots from Sketchers because they are very comfortable. They only weigh 1.5 pounds each and offer plenty of cushioning, which helps reduce foot fatigue when walking over a long distance. These boots have a removable memory foam footbed. The memory foam takes the shape of the foot, providing the utmost cushioning.
These work boots have a slip-resistant rubber sole and offer excellent traction when climbing rocks or negotiating steep slopes. Boots are very durable as the material is designed to withstand the daily wear and tear of hiking. In addition, the heel on these boots absorbs shock, which keeps me comfortable when stepping on uneven terrain.
The upper portion of these boots is made from leather, which gives the boots a classic look and adds a touch of style to an otherwise functional item. It also helps add to the life of the boots by protecting them against abrasion that occurs while working over rough terrain.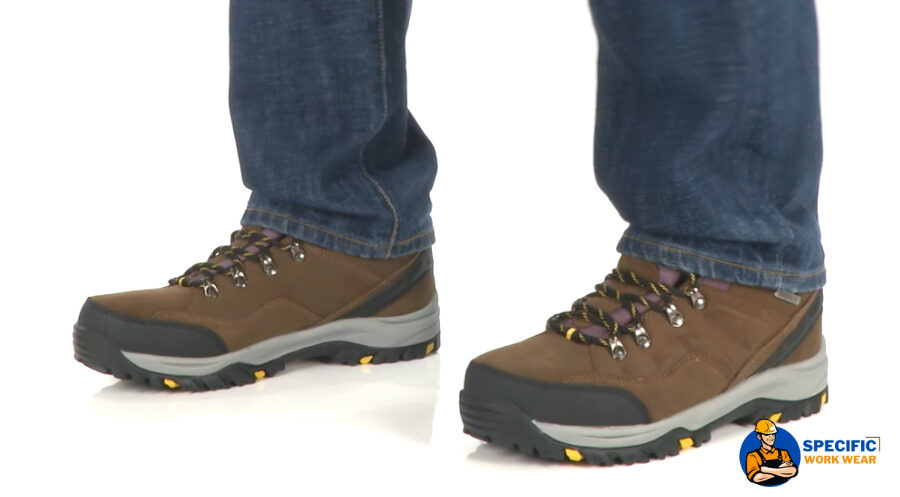 The upper area is designed for maximum ventilation and breathability, which helps keep my feet dry when working in wet or humid conditions. The arch support keeps the foot from slipping forward and provides stability when walking over uneven surfaces. This design also allows the foot to receive a complete range of motion, essential for comfortable use.
Irish Setter 83910 Marshall 11″ Pull-On Steel Toe Work Boot
Our Rating: 9.3/10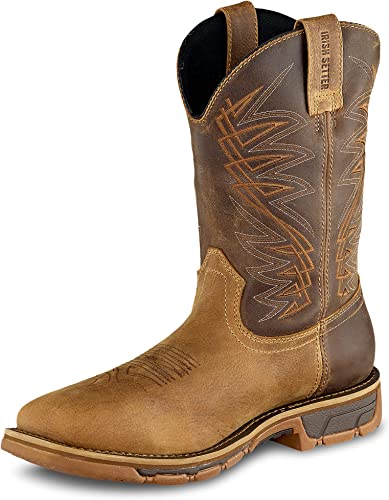 Weight of Pair: 2.5 Pounds
Sole Type: Rubber
Toe Type: Steel Toe
Foot-bed Type: Removable Polyurethane
Irish Setter's 83910 Marshall 11″ Pull-On Work Boots are great for those who are conscious about how they look because the boots offer extra depth in their design. It's a cowboy boot that has a pure leather upper with an intricate sewing pattern. The boots also have bootstraps on the collars that help when wearing the boot. They feature oil-resistant rubber outsoles; which are heat resistant and resist temperatures as high as 475 Fahrenheit. With good arch support, they are comfortable to wear for more extended periods, and steel toes to protect from stubbing your toes or crushing them under heavy loads, these boots are perfect for anyone on the job site. Such a lightweight pair of cowboy boots with all these features is impossible to find.
Read full review
Related: How To Dye Cowboy Boots?
Final Verdict
Choosing the best lightweight work boots is not always easy. What is essential is that great work boots don't only provide practical benefits but also keep your feet and legs comfortable. In my opinion, that pair of work boots is the KEEN Utility Men's Atlanta Cool Low Steel Toe Workboot, as it checks all the boxes without compromising on anything. I hope this article helped in choosing the best fit for you.