8 Best Summer Work Boots For Hot Weather 2023 [Breathable]
Most sturdy and strong work boots do not provide you the air and make your feet sweaty which can lead to fungus, cracked heels, and other discomforts. Thus, you have to choose the best summer work boots for protection, breathability, comfort, and much more. Although finding the best is a little hectic, but, I have tried and tested 33 top recommended boots in extreme heat to help you with the decision.
This list of the best summer work boots of 2023 will give you all the details you need to know. All of the boots listed below contain a lightweight porous fabric, another fabric for protection, a safety toe cap, and durable soles. You can also look for waterproofing, shock resistance, comfortable footbeds, or compress resistance. So, let's hunt for the perfect work boots for your everyday use.  
Carhartt Men's CMF6371 RugFlx Construction Work Boot
Our Rating: 9.9/10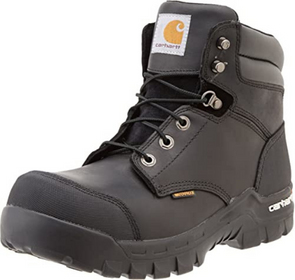 Sole Type: Rubber outsole
Toe Type: Composite toe
Foot-bed Type: PU Foam Cushioned
Material: 100% leather
Pros:
Waterproof and breathable membrane.
Composite toe that protects your foot.
Cushioned footbeds for comfort.
Cons:
Long use sometimes can cause blisters.
Carhartt Men is known for its quality and durability, Thus, these boots are no different. They provide breathability, long-last wear and tear, security to your toes, and comfort to the heels. They are perfectly made for all your summer jobs.
The breathable membrane of the shoes is a feature that distinguishes the boots from many others. The membrane acts as a filter that lets the air pass through the foot and keeps them dry. It does help you in summer by keeping your body temperature moderate.
The membrane does allow air, but it is as waterproof as it gets. It also acts as a protective layer that saves you from extreme heat, snowy, or rainy environments.
These boots contain 100% leather that helps the boots to keep my feet moisturized and does not let any water in the shoes. The material is sturdy, strong, and durable, even for a heavy-duty working environment.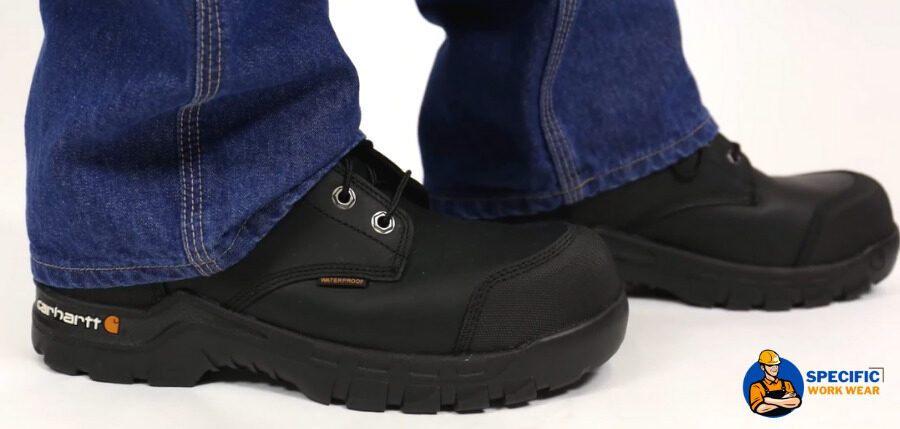 The EVA cushioned midsole of the workboots shocked me a bit as they provided the utmost comfort and shock resistance ability.
These boots contain a composite toe that meets the standard of ASTM F2413-18 EH. This test surpasses the boot Impact resistance, Electrical Resistance, Compression resistance, and Metatarsal protection.
KEEN Utility Flint Mid Steel Toe Work Boot
Pros:
Oil and slip-resistant soles.
Electrical hazard protection saves you around electrical work.
Removable metatomical EVA for support.
Safety toes for protection from heavy objects.
Water-resistant and breathable leather.
Cons:
Needs a cushion for extra support.
My soles started to peel off after a few months.
Keen Utility has built trust in itself over the years. Their market is increasing because of their provided features and quality. These work boots by Keen utility do the job well in summer and offer everything they say. The features are quite useful and practical too.
The breathable lining of the boots is airy, light, and breezy. It keeps my feet at ease and forms a comfortable environment that lasts a whole day. Wearing these boots provided me with coziness, comfort, and of course, minimal sweat.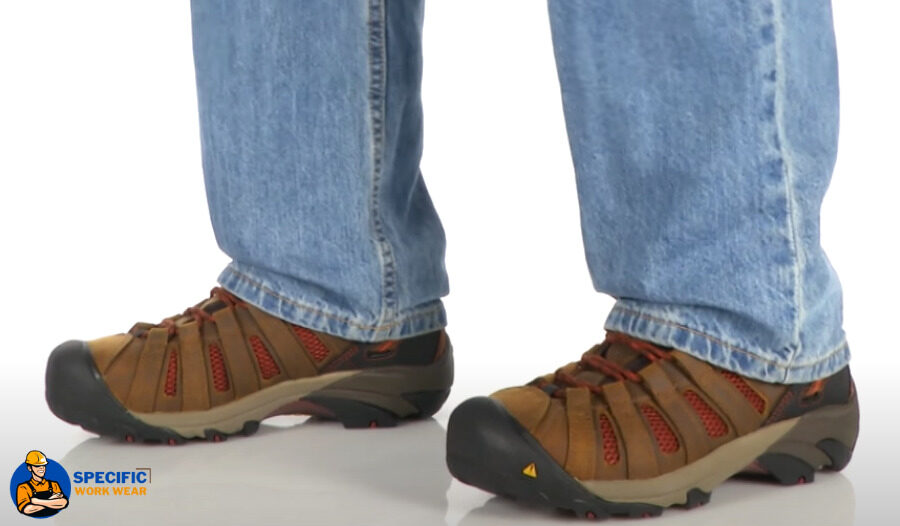 The nubuck leather of the boots provides the feature of water resistance. It protects you from extreme snow, rain, and other weather conditions. Thus, making it one of the best summer work boots in 2022.
The compression-molded EVA midsole is the one to protect you from shock resistance and compression on your foot. It is practical, efficient, and a lot helpful in saving your feet.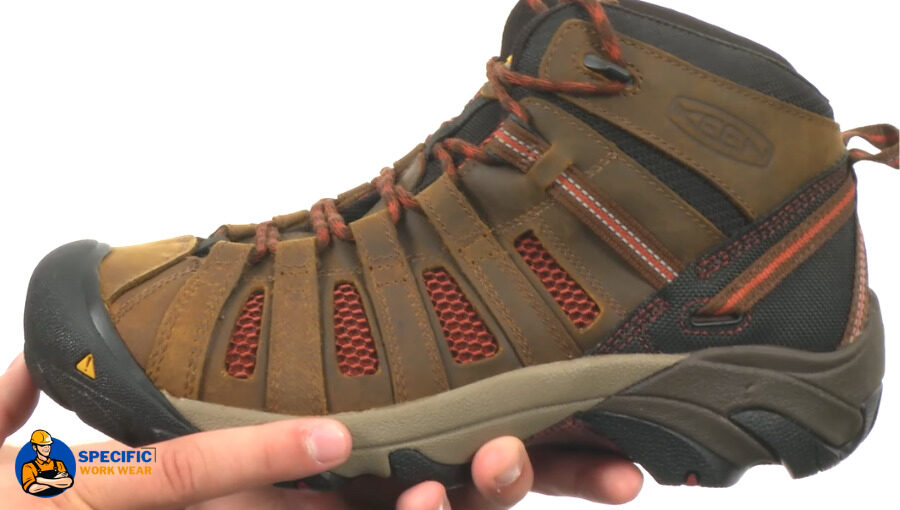 FREE SOLDIER Lightweight Waterproof Tactical Work Boots
Pros:
Breathable fabric with waterproofing.
Non-slip and wear-resistant outer sole.
EVA midsole and cushioned footbed for better support.
Lightweight and comfortable on the feet.
Cons:
Sole can wear off a little.
Free Soldier Men boots are not only for military training or hiking but they are also a perfect pair for workers in warehouses, factories, or industries. Their protection is immaculate and trustworthy. The boots contain features that will give you the freedom to move freely everywhere.
The patterned plaid material of the boots keeps them well maintained, protected, and breathable throughout your day at the job. Its fabric is specially made to cope well with the heat of summer. In addition, the body parts of the boots are made from water-resistant TPU material.
A lycra cloth lining surrounds the outer layer of the boots to prevent your feet from getting wet in the rain. The coating makes the boots more water-resistant and repellent.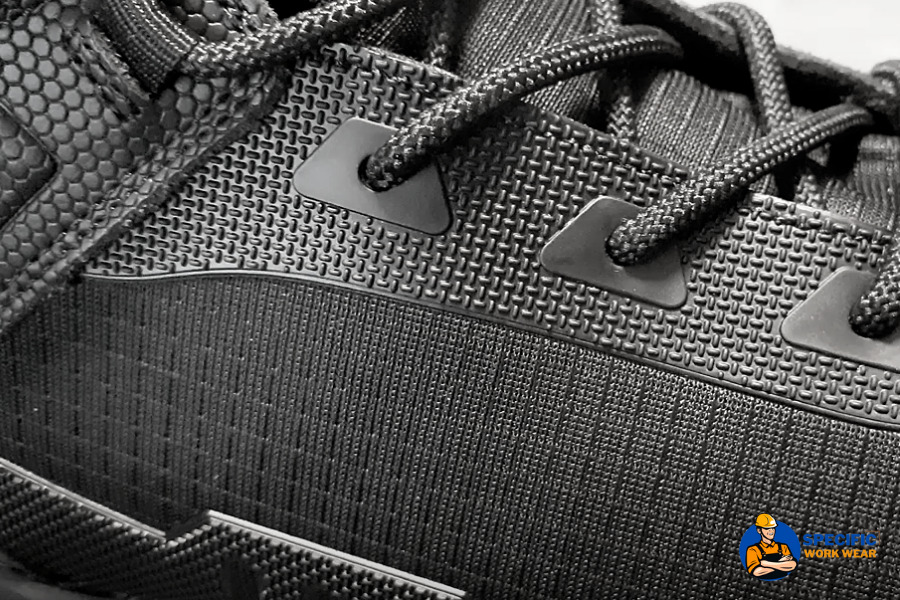 EVA midsole and cushioned footbeds keep your feet in place and at a suitable posture and strength. It is one of my favorite features because of the comfort, protection, and practicality it provides.
The outsole of these boots has a firm grip on the rocky and edgy ground that makes it a perfect day-to-day wear for work.
KEEN Utility Men's Lansing Mid Height Steel Toe Work Boot
Pros:
Breathable mesh lining.
Waterproof leather.
Safety steel toes for extra protection.
Oil and slip-resistant outsoles.
EVA Insole for comfort and support.
Probiotic based technology for sweat odor.
Cons:
Laces can wear out a bit.
Keen is a brand known for its high-quality and long-lasting products. And this is the same with this utility men's footwear that is made to protect your feet and keep them dry in the summer. Let's look at the features of these boots below:
The mesh lining of the waterproofing leather keeps the feet dry and airy during summer. It uses a special fabric that does not heat up my feet to give them a comfortable and breezy experience.
CLEANSPORT NXT™ Probiotic technology is used to make these boots that break down the sweat odor to keep you fresh. It is such a good feature to wear boots all day long.
The safety steel toe of the boot is durable and long-lasting. It protects your toes from getting crushed under heavy or chopped off from a sharp cut. Thus, these boots are necessary for warehouses or factories.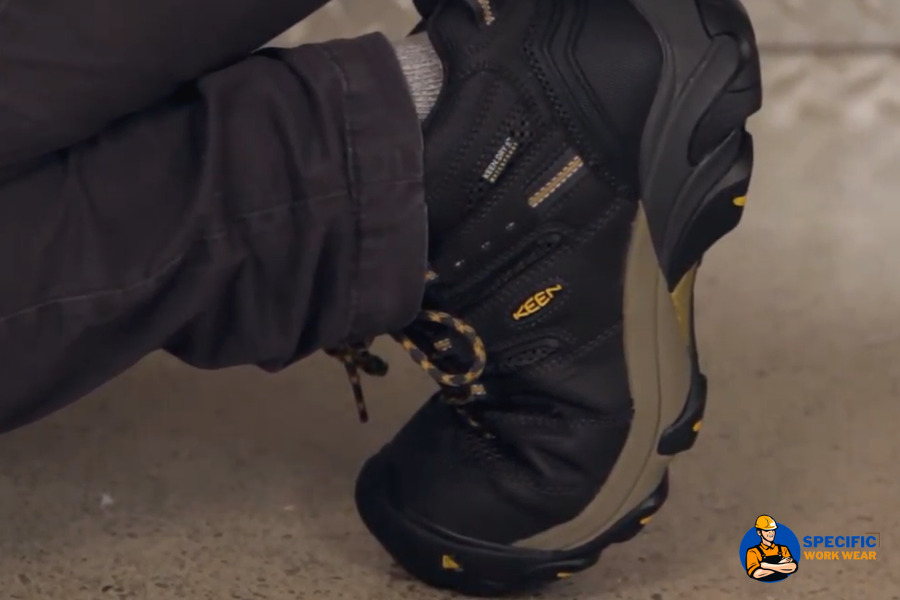 Oil and slip-resistant outsoles protect you from falling to the ground. In addition, it offers you diversity and security in your workplace or other desired environments.
Skechers Men's Cankton-U Industrial Shoe
Our Rating: 9.4/10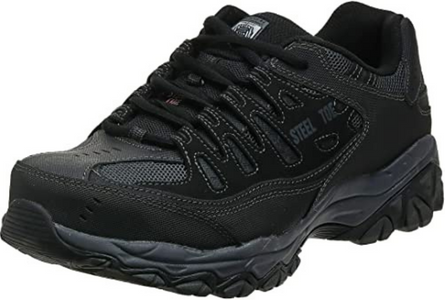 Sole Type: Synthetic Outsole
Toe Type: Steel Toe
Foot-bed Type: Memory Foam
Material: Suede & Mesh
Pros:
Memory foam footbed for comfort.
Suede and mesh for breathability.
Steel safety toe for keeping the toes safe.
Electrical hazard protection.
Cons:
I haven't found any negative side yet.
Sketchers are the most perfect pair of boots for work if your priority is comfort, softness, and cozy material. It fits your feet like a glove and provides them with the utmost cushioned experience. More of the features are defined below:
The perfect combination of suede and mesh makes the boots perfect for the hot weather because of their airy material. It feels light to the skin and gives a breeze to the feet. As a result, I don't feel the scorching heat at all.
The cushioned footbed hugs my feet tightly and lets them glide over hard surfaces. In addition, they provide the softness that is lacking in other boots. These memory foam beds are perfect for wearing for hours long.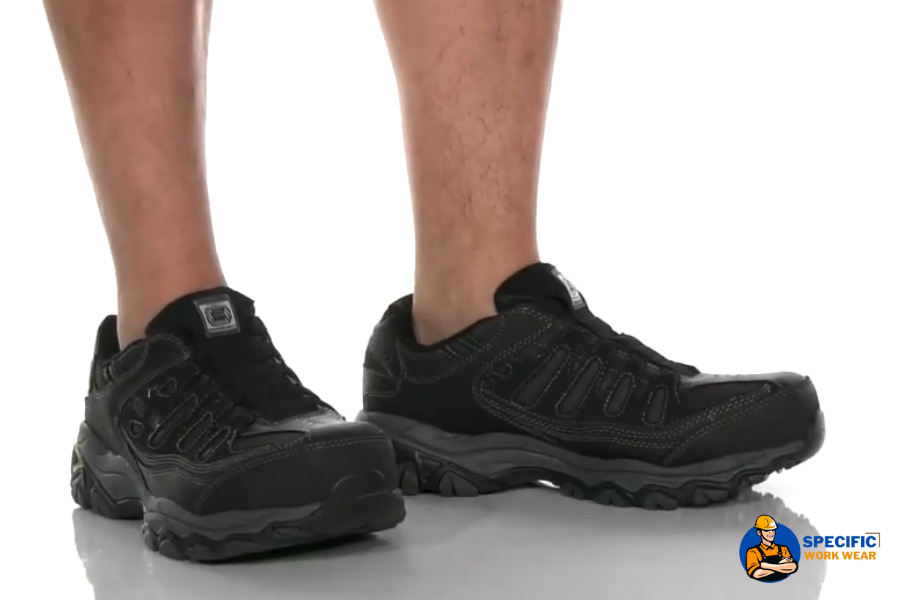 If electrical hazards and heavy material surround your work, then the steel toe boots will act as a shield for your toes. It will protect them from crushing, cutting, or electric shocks. The safety does provide an extra edge for your job.
WOLVERINE Men's Overpass 6″ Composite Toe Boot
Pros:
Waterproof and breathable leather textile.
Ortholite footbed for comfort.
The outsole is perfect for different working environments.
Cons:
It can be stiff at the start.
Wolverine Men does not compromise on the quality of boots and offers everything you need in the perfect pair. Thus, they provide quality, class, design, protection, resistance, and much more. Get to know all these features below:
Leather and textile form the perfect ratio of material for these boots. Your feet won't ever get sweat in them because of their porous and light weighted material. It surely keeps the feet dry all day long and more.
Quality of outsoles is important for the different working environments, but they will fit all the sites. They provide you with water, oil, slip, and abrasive resistance. It does cover every walk of life.
Get your hand on the boots with their durable footbeds to remove the pressure from your legs and joints. It does fit like a glove and offers support to your feet.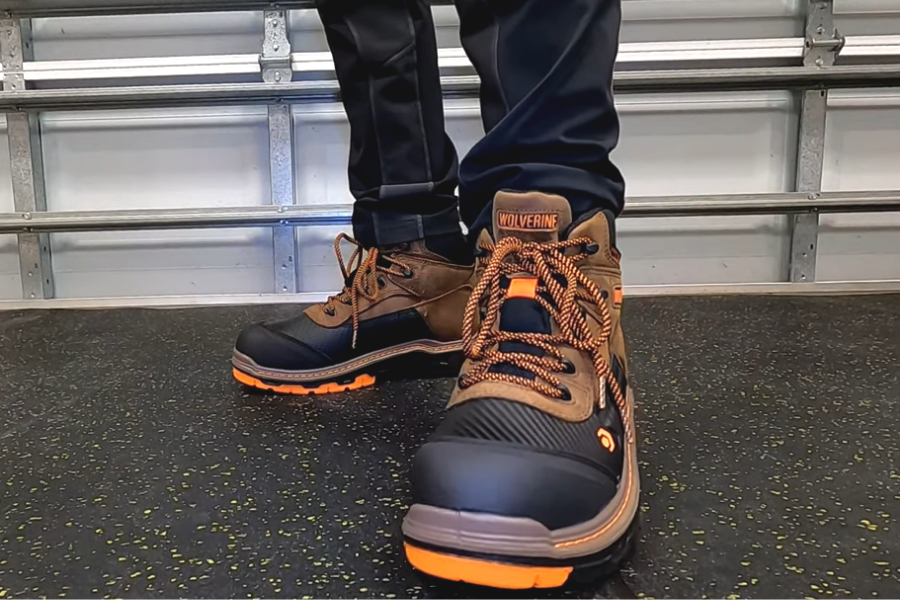 Composite safety boots are perfect for heavy-duty work and heavy lifting. This feature does make it an all-rounder for the best summer boots.
Also Read: Composite Toe vs Steel Toe Cap
ARIAT Groundbreaker Pull-on Steel Toe Work Boot
Our Rating: 9.3/10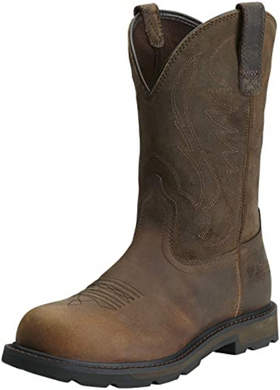 Sole Type: Duratread Rubber
Toe Type: Steel Toe
Foot-bed Type: 4LR Cushioned
Material: 100% leather
Pros:
Effective ankle and heels support.
Oil and slip-resistant sole.
Impact, compression, and electrical resistance.
Leather provides protection, support, comfort, and durability.
Cons:
Ariat Men is perfect for agricultural use, heavy workload, and other summer jobs. It provides the person with extra support, protection, and style they are in need of. These boots are also comfortable and durable for long-term use.
Related: How To Clean Cowboy Boots With Household Items?
Full-grain leather of these boots provides protection and safety to the toes and ankles of your feet. Its support is enough for the twist and turn of your path and rough, edgy land.
The 90-degree heel present in these boots gives extra support to your posture and provides comfort. The sole is also oil and slip resistant, making them more reliable to work in a heavy-duty & slippery environment.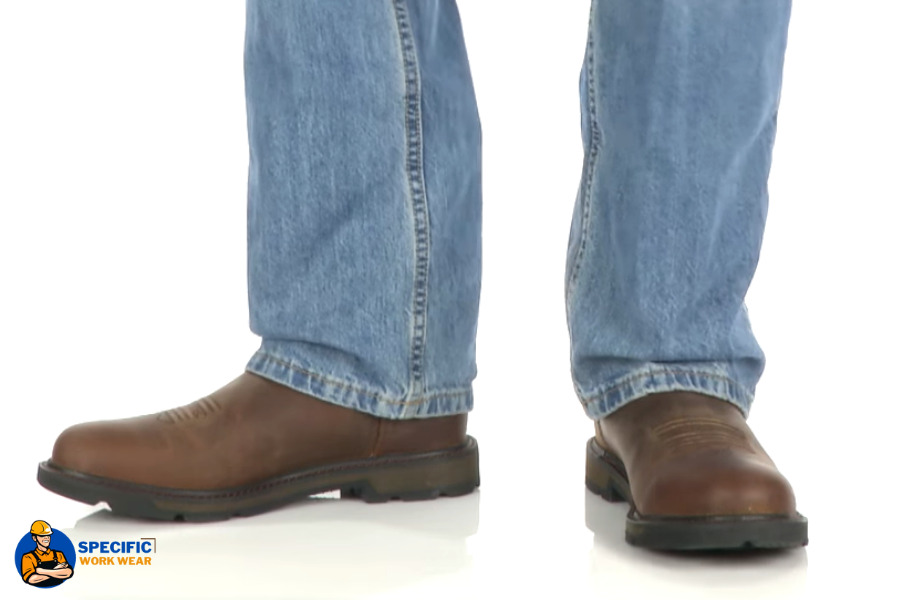 The steel toes of these boots are there to protect your feet against shock, weight, and compression throughout your sturdy and long work routine. It is perfect for people who work in construction or warehouses.
Related: How To Stop Boots Rubbing Calf?
Four-layer rebound technology of the boots gives comfort to your feet. It lets you experience the softest and most cozy boots that glide effortlessly on the ground.
Steel-toe safety of these meets the standard of ASTM F2413-11 M/I/75 C/75 EH. This test covers the minimal requirement of design, labeling, material, testing, and performance of the boots that protects you from various hazards.
Related: How To Dye Cowboy Boots?
Red Wing Heritage Men's Classic Moc 6″ Work Boot
Pros:
Moc toe to add style.
Breathable leather for sweatproof boots.
Cushioned footbeds for posture and comfort.
Traction tread outsole to refrain from slipping.
Durable and long-lasting construction.
Cons:
Size may be a bit narrow for some people compared to usual boots.
Redwing is a brand that is famous for its breathtaking quality, classy design, and functioning boots. These boots also check the mark in every possible way. I have used them a lot and will surely buy a second pair if needed.
Leather that refrains from getting moisture all around it, yes these boots will not only provide air to the feet. But, it will also keep the sweat away and dry your feet throughout the summer.
Leather is full-grain water repellent, which means you won't have to worry about getting them wet. Or you can finally have sweatproof feet at night.
Related: Can You Bleach Leather Boots?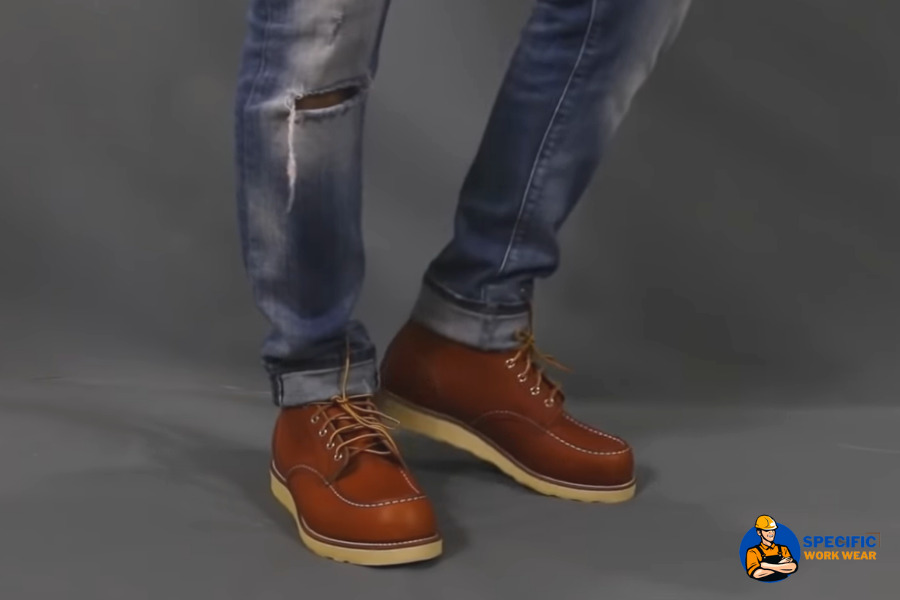 The footbeds of the shoes are made from leather providing sturdy, long-lasting, and efficient support to your inner feet. It will stay in place with protection all-around your foot.
The traction tread wedge outsole gives you more protection in case of a slippery environment keeping you safe every time. It is perfect for construction sites.
Finding the perfect partner for your work is difficult so I hope you found it in the list above. These boots have membrane fabric that lets the air in your boots and waterproofs the shoes and saves them from other weather conditions and work hazards. So, you are basically getting an all-in-one deal with no extra effort. Get your hands on the best summer boots and enjoy the season in style.